Justin Lewis promoting Uncle Buck's Duck Nachos
Photo from @jusbuckets on Instagram
The era of Name, Image, and Likeness is here for college basketball, and it seems like Marquette is mostly taking a wait and see approach. We are here today to say why that is categorically a mistake and that the University should be pulling every string possible to push the limits of NIL if they want to thrive in this era. Marquette is in a rare position where they should be as proactive as possible because by moving fast and not being afraid to test the boundaries, they can do so with virtual assurance that there will be no repercussions when they do try to innovate in this space.

We are going to look at this from four different angles. First, the ethics and laws around it. Second, how NIL could be used to help Marquette's roster building under Shaka Smart. Third, what other programs are doing. Fourth, why NIL opportunities should be considered not just viable but part of the foundational culture at Marquette and what possibilities they could investigate. Finally, we end with a plea to the fans if Marquette still isn't willing to lead of its own accord. Let's get started.
Ethics and Laws
From the NCAA's own release when NIL passed, they stated "College athletes who attend a school in a state without an NIL law can engage in this type of activity without violating NCAA rules related to name, image and likeness." Essentially, the message was "go ahead, we aren't going to stop you and aren't going to regulate this." According to the April 24, 2022 Business of College Sports update, no legislation has been introduced in the state of Wisconsin. That article lists the NIL status of 42 different states. Of those 42 states, Wisconsin is the ONLY ONE that does not have legislation that is passed or pending. So what does that mean? There are no regulations in terms of what Marquette can do when it comes to NIL opportunities for their athletes. To reinforce how important the lack of laws is, look no further than Alabama, which was one of the first states to enact NIL legislation on July 1, 2021, but repealed that legislation earlier this year because the NCAA stance was even more lenient than the state's was. "When we were in session last year, we were under the assumption that the NCAA would allow state law to prevail," Alabama State Representative Kyle South said. "In the case that we did nothing, then our student-athletes may or may not have been able to use the NIL and be compensated for name, image, and likeness. So we adopted a set of standards. Later in the summer, the NCAA went back and adopted their own set of standards that are less restrictive than what we adopted back in the spring."
While that could change in the future, we exist in a time period where neither the NCAA nor the state have passed any legislation, which means anything Marquette does would be legal. The NCAA in abdicating a position on how to run things has shown they are not going to stop programs. And while a change in Wisconsin law could alter compliance, nothing Marquette did RIGHT NOW would violate any law, which means they can come in line if and when such a line ever exists. I cannot stress enough, without laws on the books, Marquette is in one of the strongest positions in the country in terms of NIL. Marquette shouldn't wait for the state, they should take advantage of the state's inaction. This is exactly why a state like Alabama repealed their law, which gives their flagship universities free rein to provide maximum freedom to their student athletes.

In addition, we have seen in the past what the NCAA does when something happens they disagree with but is being done by too many programs to regulate. Once upon a time, "don't tweet at recruits" was a thing. Yet any time a high-profile recruit posts on social media, fans of programs like Arkansas, Illinois, Kentucky, North Carolina, and countless others flood the posts with likes and responses. No action has ever been taken against programs in regard to fan accounts interacting with these posts. They may take action if it's a coach, but nothing is done when it comes to fans. Yet at Marquette, when a recruit is active on social media, our fanbase is full of crickets because "don't tweet at recruits" was drilled into us over the course of the past decade.
I think MU Nation forgot about me😪 pic.twitter.com/KTXDmuJOv5

— Chase 🕺🏾🖤 (@chase4xx) April 15, 2022
This isn't to advocate 30 and 40-somethings climbing into the mentions and DMs of their favorite recruits. But if a motivated group of 15-20 students wanted to "show love" to recruits, or a bot farm was generating positive Marquette feedback to recruits, however it was set up or whoever had the controls, it might help prevent social media posts like the above from Marquette targets and commits. Like it or not, we live in an attention-driven world, and when high-profile basketball recruits expect attention, it's best to just "show love" as a demonstration of fanbase passion because no matter how high-and-mighty Marquette fans or administration might want to be, this is unquestionably happening at other schools, being asked for by the players we recruit, and I assure you has not gone unnoticed by our own basketball staff.

Roster Building
This is tremendously important for #mubb fans invested in the future of this program and understanding the direction the staff is taking when it comes to recruiting. Thread time. pic.twitter.com/MyerD4GsiM

— Alan Bykowski (@brewcity1977) April 14, 2022
Shaka has spoken recently about how he wants to build his roster. "I love the opportunity to develop relationships with guys while they're still in high school...to help them become full-fledged, grown men. The problem with that is retention...there's a whole lot of guys in college basketball moving around...We're still going to build our program primarily through high school kids. That doesn't mean we would never take a transfer, I think it would be irresponsible to not at least look." I'm sure as fans and Marquette's administration see the Pack deal, they think about how NIL doesn't apply, but that would be a huge mistake.
As Smart said, players are moving around for various reasons. If you have a strong NIL foundation that makes sure your players are financially taken care of throughout their Marquette careers, that will lessen their need to look elsewhere, whether that elsewhere is another program or the professional ranks.
Consider first Justin Lewis. He is largely projected as a second-round pick, which Paint Touches recently showed is fairly unreliable in terms of guaranteeing a big payday. If Justin were drafted in the second round, or went undrafted, but was offered a 2-way NBA contract, he would be guaranteed roughly half the NBA league minimum, or around $500,000. What if Marquette put together a NIL package close to that for Justin? Come back, make the same money you would on a 2-way, and instead of playing in front of sparsely populated G-League gyms and internet streamers most nights, you could play on national TV for another year in front of packed Big East arenas every night.
What if someone like Kam Jones, Oso Ighodaro, or Tyler Kolek has a star turn this year and could be the next Nijel Pack? Wouldn't Marquette be better served to try to uphold the retention Smart is calling for by making sure these athletes are taken care of before they have to make such a decision? Establishing a strong, vibrant NIL foundation will have Marquette in position to retain the players Smart wants to develop while also having the ability to reach out for those top transfers when they do fit the culture he is trying to build.
NIL Around the Country
Obviously Miami landing Pack through their partnership with Hurricane alum John Ruiz's LifeWallet is one of the biggest statements of the offseason, as is the return of Oscar Tshiebwe at Kentucky with a reported $2,000,000 payday. But it's worth noting that Caleb Love and Armando Bacot returning to North Carolina, Zach Edey to Purdue, and Hunter Dickinson to Michigan, among others, show that top players are willing to continue playing in college in this era. NIL may not be the only factor, but it is certainly one factor for guys that could just as easily be headed overseas to make money if the NBA wasn't going to offer them contracts.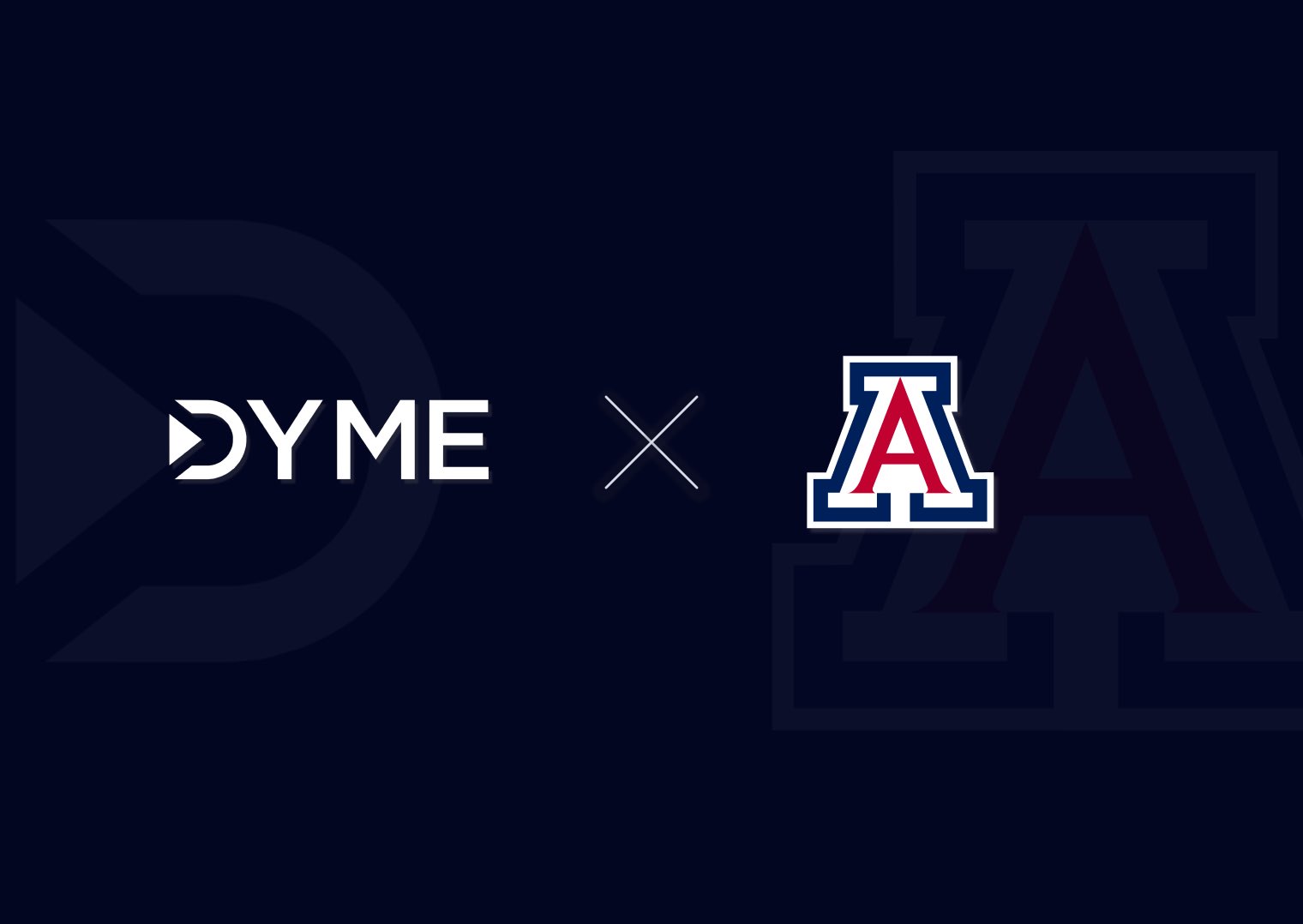 The DYME app connects Arizona fans directly to athletes on an exclusive platform
Image from @dymetv Twitter

A company offered a $1,000 stipend to all BYU scholarship and walk-on athletes in their football program. Arizona partnered with the DYME App to allow fans to have direct access to fans on an exclusive social media platform. Arkansas boosters have created a consortium connected to various non-profit organizations to provide opportunities for their players. Companies like Gatorade, Newegg, and Cash App have inked individual deals with athletes.
College basketball is retaining top talent in a way it hasn't in years. Programs are benefiting from that largely due to the opportunities NIL offers. And while this likely won't fundamentally change the everlasting reality that the blue bloods are best at attracting top players and marquee programs are the ones that win, there is clearly the opportunity for creative programs to carve a niche. Provided they are willing to move fast and not be afraid to break things. Because at this time, the NCAA doesn't have a clear prohibition and Wisconsin doesn't have any laws preventing it.

Marquette's NIL Role
There will be skepticism about what a relatively small Jesuit school in the Midwest can do when it comes to NIL. However let's not forget that the joint article The Case Against Steve Wojciechowski was published on March 18, 2021 and on March 19, Marquette had pulled together the estimated $6,000,000 it took to force Wojo to walk away. Marquette has wealthy donors that can put money in the pockets of players. And let's not forget, as of 2020 Marquette had the 8th largest basketball budget in the country. The money to fund that comes from donors.
It wasn't cheap for Marquette to dismiss Wojciechowski
Photo by Dave Kallman | Milwaukee Journal-Sentinel

While you can debate how it compares to football schools that likely earmark facilities to that progam, there are a few facts worth looking at. First, Marquette's basketball budget is the highest of any non-football school. No program outside the high-major football programs and the Big East are ranked in the top-25 of budgets. And college basketball is king at Marquette, a sport that only has 13 scholarship players compared to the 85 that football has. If Marquette's alums want to be a major player in the basketball NIL game, they can absolutely do that. Let John Ruiz pledge his $10,000,000 to Miami athletes, the bulk of that money will go to football players which opens the door for basketball-dedicated donors and fanbases like Marquette's to not just compete, but thrive because the cost of admission will be lower.
It's also important to consider Marquette's position both historically and as an institution. Many of the older fans like to point not to the 1977 National Championship team but the 1972 team that was ranked #2 nationally and undefeated when star center Jim Chones left the team in the middle of the season to enter the ABA Draft as Al McGuire's best. McGuire didn't begrudge the decision Chones made that seemed to kill Marquette's season. The Warriors were 21-0 when Chones left but finished the season 4-4 including a season-ending loss to a Minnesota team they had beaten by 15 earlier in the year. When asked about the decision, McGuire reportedly endorsed Chones' decision, "because I've looked in my ice box and I've looked in his." If Marquette supporters at the time had been able to offer NIL deals to Chones, might McGuire have won a National Championship five years earlier? In 1983, might Rick Majerus have convinced Doc Rivers to stick around for one more year and started his Marquette coaching career in different fashion, perhaps allowing Rick to grow into the coach he became in Milwaukee instead of Utah? Might Vander Blue have returned in 2013-14, giving one more season to a team that was loaded in the front court but suffered from a lack of back court shot creation? Generation after generation at Marquette has seen how much NIL could help with those difficult decisions of when to go pro.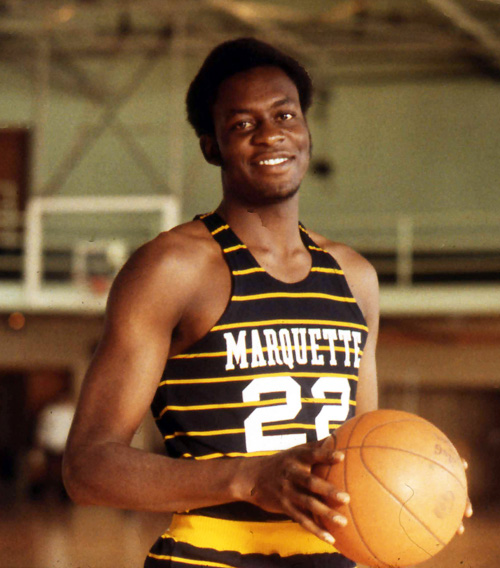 Would Jim Chones have chosen the ABA if NIL was an option?
Photo from nasljerseys.com

Another factor worth considering is Marquette's motto of Cura Personalis. Literally translated, it means "care for the whole person." Should financial opportunities not be a part of that when there has never been any restriction on other students, such as dental students, law students, communications students, nor any others to earn money as they see fit throughout their college career? And using the Arkansas charitable consortium listed above as a model, couldn't Marquette donors find a way to not only provide financial opportunities to their student athletes but to do so in a way that benefits the community by working with local charities? This is also an educational opportunity for the University. Too often we hear about athletes who are not prepared for the repercussions of fame and money that comes with it. Marquette should be finding ways to vet the NCAA approved agents for their athletes, teach them how to identify and select opportunities that help them improve their situation, and make sure they have a thorough financial understanding so none of them find themselves in the situation Milwaukee native Latrell Sprewell did when the 13-year NBA veteran and 4-time All-Star had his yacht seized and home foreclosed on due to financial troubles despite career earnings of nearly $100,000,000.

The Oscar Tshiebwe deal brings up interesting visa questions, as student visas don't seem to allow NIL deals. Perhaps Marquette, with Olivier Maxence-Prosper already on campus and Ben Gold coming in, could find a similar way that Kentucky did to amend their visas and open the door for Marquette to become a more attractive destination for international recruits. That might be important when it comes to Washington State transfer Efe Abogidi, who could be viewed as a Justin Lewis replacement if Lewis stays in the draft and Abogidi, who has Marquette on his list of 12 schools he is considering, were to pick Milwaukee for the remainder of his college career.

Whether it is creating a floor for all players (scholarship at minimum), allowing fans to directly funnel funds large or small to the players, creating a consortium that can collect and distribute NIL opportunities, or working with individual companies, the options are there. Whether it is someone like Uncle Buck's or larger corporations in Milwaukee, the options are there. And when the NCAA is abdicating any responsibility and the state has no laws, there is absolutely no reason Marquette shouldn't be doing everything in their power to lead the charge in order to retain the players they have and attract the players they want. And considering Marquette's rich recent NBA history, might there be ways to get Wes Matthews, Jae Crowder, Jimmy Butler, or Dwyane Wade involved in these opportunities? If there are no state laws regarding NIL, why not use NIL as photo ops to put current Marquette players next to Marquette legends of the recent past and have everyone come away with a paycheck?

Now is not the time for Marquette to sit on their hands. It is not the time to say "fans, don't get involved" the way they did with social media interactions years ago. It is the time to be aggressive, to take advantage of what Wisconsin legislation hasn't done, to move fast and to break things if necessary. It is the time to lead, not the time to be left behind. If you have to make mea culpas later, if you have to adjust to laws later, so be it. In an innovative environment, the best possible thing you can do is innovate, not wait for others to innovate around you and play catch-up when it's too late to be a major player.
A Final Plea
If Marquette doesn't choose to be the driver behind NIL initiatives, that doesn't mean that fans and boosters cannot get this started on their own. I would encourage Marquette fans to look at ways to support their student athletes. I suspect if you are still reading this, you already support the Marquette basketball program in one form or another. If you are a business owner, could your advertisements include Marquette athletes? If you are one of Marquette's well-heeled donors, could you start a consortium that provides that floor for scholarship (or all) players? Even if you are just a fan, why not make sure the memorabilia you buy either comes from the athletes directly (such as the Morsell Blue shirt or custom jerseys that benefit the players)?
On whom does NIL responsibility fall? You, Marquette fan, it's you.
Photo by Maggie Bean | gomarquette.com

At this time, in this state, the hope has to be that Marquette chooses to lead and not simply follow. But if they do not do that, it is incumbent on the donors to be the ones that push this ahead and make sure that Marquette as an institution has the donor support to drive this, even if they have to be brought along incrementally. For those of you that have the ability and desire to fund Marquette's basketball ascendancy, this is the time for you to take the reins, even if the University is slow to act.