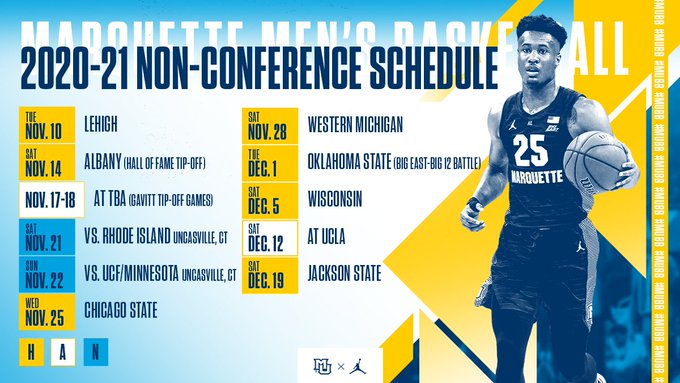 Marquette Non-Con Schedule | Photo from @MarquetteMBB Twitter
Marquette Twitter released their initial Non-Conference schedule today. While I plan to dig further into all the teams later in the year, I thought I'd give some rapid reactions since we've generally been starved of content for the past couple months. We'll do a quick hit on each team in the order they appear.
Lehigh:
Under Brett Reed, Lehigh had never finished as a sub-300 kenpom team before. Frontcourt injuries were largely responsible for that, as they started off 3-10 without center Nic Lynch, won their next game with a full roster, then went 2-9 without forward James Karnik. They finished 5-3 with both healthy, but Karnik left for Boston College as a transfer. Most everyone else returns, so expect an improvement from Lehigh. Somewhere in the 200-250 range seems about right.
Albany:
Marquette fans can empathize with the Albany faithful as a relatively successful season was derailed by a 6 game losing streak to end the year. They do return 5 players that started at least half their games a season ago and will hope Loyola-MD transfer Chuck Champion can help replace the scoring punch lost when PG Ahmad Clark graduated. Head Coach Will Brown will help his veteran group can return to the top-200 status they have usually enjoyed under his tenure.
Gavitt Game:
We don't know the opponent yet, but I think I can round it down to one of three teams. First, Wisconsin is out since we already play them. Next, I expect Illinois, Iowa, Indiana, and Maryland to be on the road since all have already played 2 home games in the series. That leaves three teams that I expect to be playing home games: Michigan State, Purdue, and Rutgers. As Michigan State will likely get either Creighton or Villanova and Marquette has already played Purdue twice, my money is on a road game at the RAC.
Rhode Island:
The Rams lost two starters to graduation and Jacob Toppin to transfer. This was already Fatts Russell's team and he will be on the short list for A-10 POY to start the season. Expect URI fans to make this a road environment for Marquette, but the greater talent will be on our side of the court. The danger is that URI is still an experienced team and will be a tough test. Winnable game, but certainly not easy.
UCF/Minnesota:
The Knights, like Rhode Island, project as a middle-of-their-league team in a lesser league than the Big East. Johnny Dawkins has been a decent coach and returns most of last year's team, but the talent level has taken a hit from the team that took Duke to the limit in the last NCAA Tournament. They will be slow-paced and well-coached, but beatable. If it's Minnesota, they were the only top-50 kenpom team (#27) with a losing record last year. The Gophers have a solid backcourt in Marcus Carr and Gabe Kalscheur but lost the bulk of their frontcourt. Expect Western Michigan transfer Brandon Johnson to have a big role early on.
Chicago State:
This is arguably the worst program in Division I. They had one player with an adjusted offensive rating over 90. This should be a mauling.
Western Michigan:
I imagine this game may have been scheduled as the Vermont, Fresno, Buffalo, North Dakota State type of guarantee game three months ago. Then the Broncos' top two scorers transferred (including the aforementioned Brandon Johnson). Now Clayton Bates needs his very young but talented team to grow up quickly. Before slumping the past two years, WMU had been a top-200 team in kenpom 9 straight seasons. Unfortunately, those transfers will likely relegate them to the 200-300 range again.
Oklahoma State:
This home game kicks off a brutal three-game stretch. The Cowboys had the look of a NCAA contender before their recent postseason ban. Now the best freshman in the country, Cade Cunningham, may be headed either to another program or the G-League academy. They still have Big 12 talent and a couple of potential breakout stars in Isaac Likekele and Yor Anei, but Cunningham was definitely the guy everyone would be coming to see. The good news is grad transfer sniper Ferron Flavors has committed to staying, but their fate hinges on Cunningham's decision.
UW-Madison:
A lot will be expected from this Badger team that expects to start 5 seniors with a sixth expected to factor in off the bench. Expect them to start in the top 10-15 range and be the marquee name on the schedule. Greg Gard had them playing great down the stretch and they went 16-5 after Micah Potter entered the lineup. Definitely the toughest non-con test unless Michigan State's name shows up as that road Gavitt Game.
UCLA:
After a dismal start under Mick Cronin, the Bruins bought in and finished the season on an 11-3 surge. Many had them pencilled into the top-20 before star recruit Daishen Nix left the program for the G-League academy. They still return virtually their entire rotation and add former five-star Kentucky recruit Johnny Juzang. This will be a tough road test to set the table for Big East play.
Jackson State:
The obligatory punching bag game before Big East play truly starts, the Tigers will have some similarities to last year's Marquette team. Tristan Jarrett was fourth in the percent of shots taken nationally and will dominate the ball similar to how Markus Howard did, especially with second leading scorer Roland Griffin gone. They lose three other starters as well, so this should be a comfortable win.