Creighton Blue Jays
Coach: Greg McDermott (511-311, 231-116 at Creighton)
Three-Year NCAA Rank Average: 36.0
Three-Year kenpom Average: 32.3
2020-21 T-Rank Projection: 13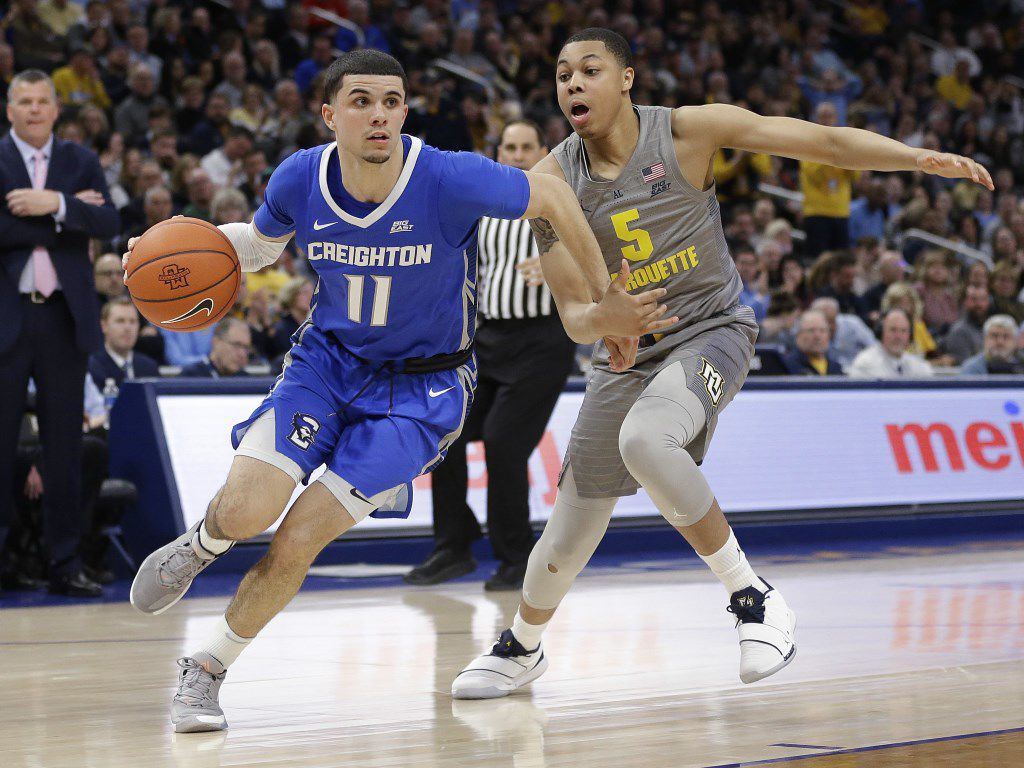 Marcus Zegarowski is the Preseason Big East Player of the Year
Photo from Omaha World Herald

Projected Starters: PG Marcus Zegarowski (6'2" Jr), SG Antwann Jones (6'6" RS So), SF Mitch Ballock (6'5" Sr), PF Damien Jefferson (6'5" RS Sr), C Christian Bishop (6'7" Jr)
Creighton fans more than maybe any other in the Big East must have been emotionally gutted when the 2020 NCAA Tournament was cancelled. As a team, they had the #3 offense in adjusted efficiency in the country, Ty-Shon Alexander and Marcus Zegarowski were a scintillating backcourt combo, and Alexander's ability to lock down stud scorers papered over the team's defensive deficiencies. Early season losses to Michigan and San Diego State were a lot more understandable on the resume by March while their 11-2 finish to Big East play earned them a share of the league title and had them one of the hottest teams in the country heading into the sport's vanishing premier event.
On the heels of that success, Ty-Shon Alexander declared for the NBA. We'll dig in to the significance of that more later. Alexander's departure means Marcus Zegarowski will be the star of the show. The Preseason Big East Player of the Year is an excellent offensive player, able to create for himself and others, and will lead what will almost certainly be a top-10 offense. Our guess at his running mate is Antwann Jones, a former top-100 recruit who sat out last year after transferring from Memphis. Jones provides length and talent but has yet to prove it at this level. If he's not able, sixth man Denzel Mahoney will be next in line, though he's a high-usage feast or famine player that will sometimes wreak havoc on opposing defenses but whose shot choices can also wreak havoc on Creighton's own offense (think a poor man's Myles Powell). Mitch Ballock is far more consistent as the league's most accurate returning three-point shooter. Up front, Jefferson and Bishop are both effective interior scorers despite being undersized. They do have injury-prone junior Jacob Epperson and freshman Ryan Kalkbrenner to provide size, but whether either can crack into the regular rotation remains to be seen. Highly rated European freshman Rati Andronikashvili was thought to be a possible immediate contributor, but is out for the season with an injury.
This season's Jays should be a joy to watch again on offense. Creighton is an excellent example of pace and space as they put a ton of effective shooters on the arc while also having a great ability to score in transition. While their adjusted tempo was only 178th in the country, their average offensive possession length of 16.5 seconds was 69th, so they definitely push the pace on that end and were 4th in transition offense last year. They are an unselfish team that loves to move the ball, has a variety of scorers that can step up on any given night, and will likely put up a ton of points. However, as good as they will likely be on offense, they project to be bad on defense. Creighton is bafflingly projected as a top-50 defense by T-Rank and kenpom, and I just don't see it. McDermott has had a top-50 defense just three times in his nineteen seasons as a D1 head coach. The only times he had that at Creighton were when he had legit 7-footers in the middle, a board-cleaning PF in Cole Huff, and a lockdown wing defender. He has none of that this year. Last year's defense ranked 78th in the nation and they lost Alexander, the only player that seemed to put any effort in on the defensive end. In their sweeps of Marquette and Seton Hall, Alexander took the defensive tasks of Markus Howard and Myles Powell. He held them to 14.5 ppg and below 25% collectively on threes. While I don't think Creighton's offense will necessarily crater without Alexander, their defense and ability to slow opposing stars will almost certainly take a big hit. Consider the on/off splits for Alexander last year: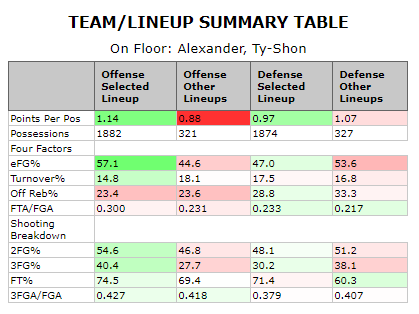 I feel like the near universal top-15 projections for the Jays are overoptimistic. To this Marquette fan, the impact of losing Alexander feels like a similar impact to what Marquette went through when they lost Vander Blue ahead of the 2013-14 season, and the offense/defense disparity reminds me of the Andrew Rowsey teams of 2016-17 and 2017-18. I'm not saying Creighton will miss the tournament, but I think somewhere in the fringe-top-25 to bubble conversation is more likely than the top-3 seed everyone seems to be penciling them in as. In the past 5 years, there hasn't been a single team to crack the kenpom top-10 with an adjusted defensive efficiency outside the top-50. Creighton was #78 last year and will likely be worse this year on that end without Alexander, so it's hard to see them improving as a team overall when they will likely be so bad on the back end. In fact, last year's Creighton team was somewhat an aberration as the ONLY sub-60 defense to rank in the top-15 of kenpom the past 5 years, so expecting them to catch lightning in a bottle twice seems improbable at best. This will be a team that absolutely scorches the nets some nights and runs teams out of the gym, but whose defensive mishaps could allow inferior opponents to match their scoring pace and steal some games they shouldn't lose. They should be in the top-half of the league, but how they adjust to life after Alexander will determine if that is nipping at Villanova's heels or somewhere closer to the bubble. I expect the truth to be somewhere in the middle, with a 6-8 seed in their future.
Marquette Memory: Before Creighton joined the Big East, the last time they had played Marquette was on March 11, 1998 in the NIT. It was a tight affair most of the way, with Creighton holding a 36-35 lead at halftime. Creighton's shooting went cold down the stretch as they didn't hit a field goal for the final 8:28 of the game, allowing Aaron Hutchins (19 points, 7 assists) to lead Marquette to an 80-68 victory. Marquette would follow that up with an overtime win over Auburn before losing to eventual champions (later vacated) Minnesota.