We're less than a month from Selection Sunday and the Big East seems to be looking at anywhere from 3-6 bids, depending on how things shake out. Looking at the latest Bubble Watch at The Athletic, they list two teams in the "Should Be In" category and four more in the "Work to Do" category. Let's take a look at those teams and see what they need to do to punch those tickets.
Villanova Wildcats, 13-3 (8-2)
'Nova is in good position, but if they completely collapsed and finished 13-8 (8-7) with two Quadrant 1 wins, they could be in trouble. Non-con wins over Arizona State and Texas didn't age as well as they hoped and the general weakness of the Big East hasn't helped. To guarantee inclusion I think they need two more wins, mostly because they just don't have the volume of games on their schedule. Lock Status: 2 wins away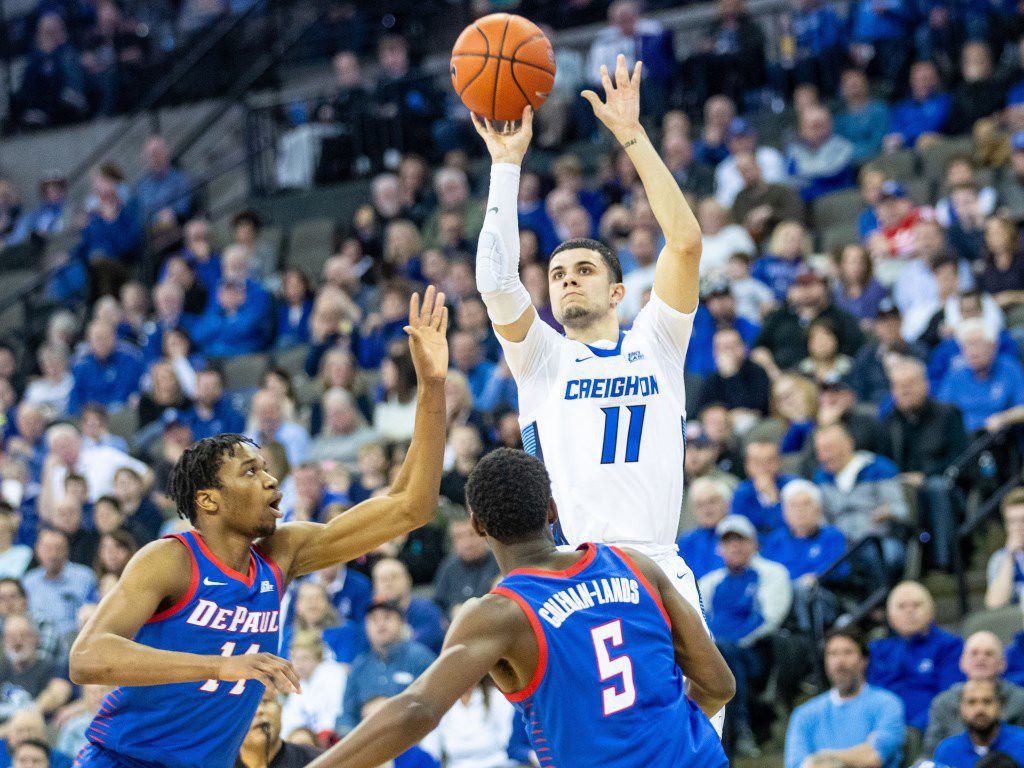 Despite being 2nd in the league, Marcus Zegarowski & Creighton are closest to lock status
Photo from Omaha World Herald


Creighton Blue Jays, 16-5 (12-4)
For lock status, Creighton likely only needs one more win. 17-8 (13-7) would likely do it because of their excellent Quadrant 1+2 record. Creighton does have an ugly 2-4 Q3 record, but the Selection Committee looks more at good wins than bad losses, so they are closer to lock status than 'Nova despite being lower on the S-Curve. Lock Status: 1 win away

Seton Hall Pirates, 13-8 (10-5)
Losing four of five had the Pirates on the ropes, but all four losses were to Villanova and Creighton and they've won four straight since, including valuable wins at Providence and UConn. Seton Hall only has one bad loss (Q3 at home to Providence) balanced against 6 Q1+2 wins. If they can win their next two at Georgetown and Butler, they would guarantee no more bad losses and enough quality to get in. 15-10 (12-7) isn't getting left out. Lock Status: 2 wins away

Xavier Musketeers, 11-4 (4-4)
That Oklahoma win has aged marvelously, but it's their only Q1 win and losing two straight since returning from a COVID pause isn't good. On the plus side, they don't have any losses outside Q1+2. The problem for Xavier is they only have one more Q1 game, Creighton at home. While 3 wins would probably suffice, to lock Xavier in I think they need 4, which either guarantees they don't pick up any bad losses or they get the Creighton win to offset any bad loss they might incur. Lock Status: 4 wins away
Connecticut Huskies, 10-5 (7-5)
It's worth noting this team is 6-1 with James Bouknight in the lineup and just 4-4 without him. Because of that, the Selection Committee may give them some leeway. Normally, I would point to the strength of their resume actually being no bad losses since they don't have many Q1+2 wins, but I think the Bouknight factor will work in their favor putting them closer to the field than Xavier despite being behind them on the S-Curve. Lock Status: 3 wins away

St. John's Red Storm, 14-8 (8-7)
Losses to BYU, Georgetown, and Marquette didn't seem that big a deal at the time, but after winning 7 of 8, it's those games on the margin keeping the Johnnies out of the field. The resume isn't terrible, but there just isn't enough good to offset the two Q3 losses. Considering the only remaining Q1 game on the schedule is at Villanova and any other losses would hurt their resume, they probably need to win out, though if they added a Q2/3 non-con win during their week off between Villanova and Providence to bolster the resume, they could afford to take a loss. Lock Status: 4 wins away
Other Big East Teams
Providence and Marquette need more wins than are left on their schedules. If either added a quality non-con game, won out, and won 1-2 Big East Tournament games they might be able to get in the mix, but it's a long shot. Butler, Georgetown, and DePaul can only get in by winning the Big East Tournament. There's no path to an at-large berth, even if they won all the way to the BET final and lost.

On the S-Curve, Wichita's upset of Houston tipped the American auto-bid to the Shockers, which knocked St. Louis out of the field and St. John's out of "Next Four Out" status. Here's the full S-Curve:
1-Seeds: 1-GONZAGA 2-BAYLOR 3-MICHIGAN 4-Ohio State
2-Seeds: 8-VILLANOVA 7-West Virginia 6-ALABAMA 5-Illinois
3-Seeds: 9-VIRGINIA 10-Iowa 11-Houston 12-Oklahoma
4-Seeds: 16-USC 15-Texas Tech 14-Texas 13-Tennessee
5-Seeds: 17-Florida State 18-Wisconsin 19-Kansas 20-Virginia Tech
6-Seeds: 24-Clemson 23-Purdue 22-Creighton 21-Arkansas
7-Seeds: 25-Rutgers 26-Missouri 27-Byu 28-Florida
8-Seeds: 32-Lsu 31-Loyola Chicago 30-Colorado 29-Oklahoma State
9-Seeds: 33-Seton Hall 34-Ucla 35-Xavier 36-San Diego State
10-Seeds: 40-BOISE STATE 39-VCU 38-Louisville 37-Oregon
11-Seeds: 41-Minnesota 42-Maryland 43-Drake 44-Colorado State 45-Connecticut
12-Seeds: 50-WICHITA STATE 49-BELMONT 48-TOLEDO 47-Indiana 46-St. Bonaventure
13-Seeds: 51-WRIGHT STATE 52-COLGATE 53-WINTHROP 54-UC SANTA BARBARA
14-Seeds: 58-ABILENE CHRISTIAN 57-UNC GREENSBORO 56-LIBERTY 55-NORTH TEXAS
15-Seeds: 59-VERMONT 60-EASTERN WASHINGTON 61-SIENA 62-GRAND CANYON
16-Seeds: 68-NORTH CAROLINA A&T 67-WAGNER 66-PRAIRIE VIEW A&M 65-NORTH DAKOTA STATE 64-JAMES MADISON 63-TEXAS STATE
First Four Out: St. Louis, Stanford, North Carolina, Utah State
Next Four Out: Mississippi, SMU, Richmond, Syracuse

Multi-bid Leagues
Big 10: 10
Big 12: 7
SEC: 6
ACC: 5

Big East: 5
Pac-12: 4
Mountain West: 3
AAC: 2
A-10: 2
MVC: 2
WCC: 2