"The first thing I realize about (Haynes) is he seems like a great family man. He and his wife had their kids around, and that just shows you what type of individual he is and what he values. He's been a great help for us. He's like the coach I've never had since I've been in college. I've definitely enjoyed his time since he's been (at Maryland). From the perspective that he played and had success while he was playing, he brings another dimension. He's great with film. He's a great coach all around."
--Darryl Morsell, 2021 Big 10 Defensive Player of the Year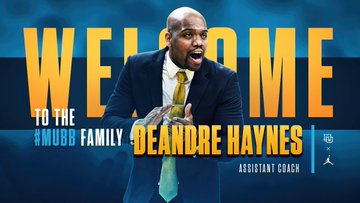 Marquette officially announced their three Assistant Coaches today. As previously reported on Cracked Sidewalks, Cody Hatt and Neill Berry are following Head Coach Shaka Smart from Texas.
Cracked Sidewalks had been told over the past couple weeks that the third assistant was going to be a home run hire. It was a big target that the staff was looking to add. Today we can confirm the third assistant will be DeAndre Haynes. Coach Haynes joins Smart's staff after spending the past two years on the bench at Maryland. The upcoming season will be his tenth as a Division I assistant, having additional stops at Kent State, Toledo, and Michigan.
Every article written about Haynes, and there has been a lot of digital ink spilled on his behalf, puts a focus on his ability to build relationships. The 37-year old Haynes retains an ability to connect with younger players that isn't always natural for coaching staffs. That was exemplified by his relationship with Maryland guard Anthony Cowan. Haynes and Cohen bonded not only over basketball, but when Haynes told Cowan about his mother's health troubles, multiple surgeries, and how compared to that, Cowan could relax because they're just playing basketball.
Haynes' route to Marquette was a long, divergent path. He got his start in college basketball as a player, spending all four years at Kent State while also winning MAC Player of the Year as a senior and leading the Golden Flashes to the MAC regular season and Tournament titles as well as a NCAA berth. From there, he played professionally in Europe for six seasons before retiring and joining the Kent State coaching staff as an assistant in 2012. That was when Haynes began to demonstrate his ability to build relationships. Of Haynes, Kent State coach Rob Senderoff said, "The work he's willing to put in with those guys on the court is where the relationship starts."
Haynes holds Kent State records for career assists and steals
Photo from Getty Images

After four seasons learning the ropes of coaching, Haynes moved on to Toledo for one year under head coach and one-time Marquette assistant coach Tod Kowalczyk. From there, Haynes had a very (very, very) brief stay with Illinois State. Haynes made an immediate impression on head coach Dan Muller. His initial hire in Normal was on May 16, 2017. Then, 343 miles away in Ann Arbor, something unexpected happened. Within the span of a week, Michigan assistants Jeff Meyer and Billy Donlon left the program for similar jobs at Butler and Northwestern, respectively. For John Beilein, it was rare to have to replace an assistant in the middle of summer, but replacing two within a week that late in the year is almost unheard of.
This is where Haynes' boss at the time, Dan Muller, comes in. When he heard about the vacancies at Michigan, he called John Beilein and recommended he hire two assistants off his own bench. The first was Muller's long-time friend Luke Yaklich, who was shortly thereafter regarded as the guru that reshaped Michigan's defense. The other was DeAndre Haynes, who went from the new guy at a mid-major to a Big 10 bench in just 72 days. "I learned a long time ago...you can't control when things happen," said Muller. "If it's right for you and your families and a progression in your career or the money, whatever it may be...we'll be okay. That's what I told them."
Haynes unquestionably delivered in his first year at Michigan. He was credited with the improvement of guard Zavier Simpson, who became indispensable for the Wolverines as they won the Big 10 Tournament and made a NCAA run all the way to the Final Four before losing in the Championship Game to Villanova.
Haynes connected with players like Jordan Poole on and off the court
Photo courtesy of USA Today

The job had to seem like a dream come true. By his second summer in Ann Arbor, Haynes was
running the Michigan offense
on their international trip to Spain. The Wolverines started the year 17-0, climbing all the way to #2 in the AP Poll on their way to another Big 10 Title Game appearance and Sweet 16. And then, for the second summer in three years, Haynes found his life radically changed by one of those things you can't control. John Beilein left Michigan for the Cleveland Cavaliers in May, leaving Haynes facing a summer of uncertainty as most assistant positions are filled by that time of year.
Coincidentally, the man that came to Michigan with Haynes, Luke Yaklich, was hired by Shaka Smart at Texas. The Wolverines' other assistant, Saddi Washington, was retained by new coach Juwan Howard. That left Haynes as the odd man out, and the process of filling Michigan's staff had taken nearly a month. In early June, the only high-major assistant positions open were at Miami and Maryland.

It was once again
a fortuitous phone call
that gave Haynes a lifeline. Two weeks before he took the Cavs job, Beilein called Mark Turgeon at Maryland. One of Turgeon's assistants had taken a head coaching job and he still needed to fill the spot. Beilein recommended all three of his assistants to Turgeon. In College Park, Turgeon watched the Michigan situation and waited as Yaklich and Washington secured employment. When Haynes looked to be left in the cold, Turgeon reached out.
After Haynes' interview, Turgeon was driving him back to the airport for his flight back to Detroit. Haynes received a text from Hurricanes Coach Jim Larranaga to tell him they went with another candidate. He quietly closed his phone as they approached the airport. Just before arriving, Turgeon offered Haynes a job at Maryland.
Haynes is known for his skill development and work with guards
Photo Courtesy of Washington Post

In the past two years, Haynes has continued to develop both players and relationships. In his first season at College Park, Anthony Cowan was a first-team All-Big 10 selection. This past year, Darryl Morsell was named Big 10 Defensive Player of the Year.
Turgeon said
, "Players love him, and they love being around him. He's a great teacher."
Working in one of the premier basketball conferences and having so much success, some might wonder why Haynes would leave Maryland to join a new staff at Marquette. The first reason that comes to mind is stability. When Lon Kruger retired in late March, Mark Turgeon was one of the first names mentioned with the opening. While Turgeon signed an extension on April 7th, that circumstance could have left Haynes in a difficult situation once again. Would he really want to be back on the market for the third summer in five years?
Another consideration could be salary. While the Maryland job came along at the right time, thanks to our colleagues at
Paint Touches
, we have learned that Haynes took a major pay cut, from
$275,000 per year
at Michigan to
$156,000 per year
at Maryland. Not only that, but the two other assistants on the Maryland staff,
Orlando "Bino" Ranson
and
Matt Brady
each make $278,000 per year. As Marquette is a private institution, we don't know Haynes' exact salary, but having to take a 43% pay cut and making a little over half what your peers make might be a major incentive for Haynes to move on.
Haynes may also be a particularly good fit for Marquette. This isn't just because he's a Midwest guy who grew up in Detroit, went to school in Ohio, and has coached in Ohio, Illinois, and Michigan. It's also because two of the men that sat in this seat before him recently are Dwayne Killings and Justin Gainey, who helped form
Coaches For Action
. Haynes and his wife have focused on the importance of serving as and discovering black role models, not just in sports. His wife, Tierra Haynes,
wrote a children's book
about the first black astronaut, Guion Bluford, Jr that also includes their own children as main characters in the book. As Marquette did for Killings and Gainey before them, the University can provide a platform for Haynes to be similarly influential, especially as he works alongside the first black head coach in Marquette history, Shaka Smart.
In addition, Smart has talked repeatedly about building a culture through relationships. The word relationships comes up repeatedly when people talk about Haynes. It seems to not just be the reason for his success but the calling card of his life. At every turn, his colleagues talk about his ability to connect with others, something that will be instrumental on a young team that will look to blend players and recruits from two different coaching staffs into one cohesive unit.
After noticing Cody Hatt's instant Marquette embrace and seeing Neill Berry on some of the videos Marquette was releasing on Twitter, it was clear that two of the three assistant coach positions were filled. The announcement of Haynes was reportedly delayed because while this was agreed on in principle, Haynes was still in the mix for the Eastern Michigan head coaching position until it was filled by Stan Heath on Monday. The Eagles' loss looks to be the Golden Eagles' gain. Looking at his history, his connections, and his successes, DeAndre Haynes looks like the signing Smart truly hit out of the park.