Darryl Morsell represents the culture Shaka Smart wants at Marquette
Photo by Mark Hoffman | Milwaukee Journal-Sentinel

When Buzz Williams was at Marquette, much was made of how his program wasn't for everyone. He wanted the tough guys, the ones who had to work a little harder to get here, the kids that knew they wanted the Number 2 from the McDonald's value meal menu. If you asked Al, he might've said they knew about the Cracked Sidewalks. Because of that, much was made of how frequently Buzz had players transfer out under his watch. When Steve Wojciechowski replaced him at Marquette, the conversation shifted to how he retained the entire roster Buzz left behind as fans hoped the transfer "problem" would be fixed. In retrospect, that hope was in vain.

So what does any of that have to do with today? Under Shaka Smart, Marquette is in a vastly different place than they were when Williams inherited Tom Crean's loaded 2008-09 team or when Wojciechowski retained Williams' entire current roster despite losing most of the freshmen recruits. Only three of Wojo's scholarship players stayed with Smart as he focused more on building his own culture than trying to hold on to the roster his predecessor left behind. Today, we're going to look at the early departures under all three coaches, Williams and Wojchiechowski in their time at Marquette and Smart in his time at Texas, to try to tell if Marquette will be in a better place as immediately eligible transfers become more common in the modern game.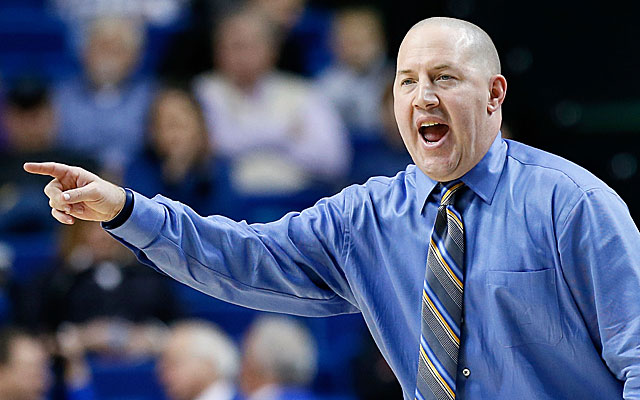 Williams changed the conversation about transfers at Marquette
Photo by USATSI


Buzz Williams' Tough Love
"I think recruiting, as things have evolved, tends to spoil kids. And within the culture I coach in on a daily basis, spoiled kids really struggle in dealing with me." That was Buzz Williams' view on the culture he created. That led to more transfers out than Marquette fans were accustomed to and also more Junior College transfers in as Buzz tapped his own JUCO roots. Here's the list of players that left Marquette early under Williams, though we are only counting players that spent time on campus as students.
| | | | | |
| --- | --- | --- | --- | --- |
| Year | Player | % Minutes | Destination | Original Coach |
| 2009 | Brett Roseboro | 0.0 | St. Bonaventure | Williams |
| 2009 | Patrick Hazel | 17.9 | Boston University | Crean |
| 2010 | Jeronne Maymon | 10.7 | Tennessee | Williams |
| 2010 | Liam McMorrow | 0.0 | Tennessee Tech | Williams |
| 2010 | Youssoupha Mbao | 4.3 | Marshall | Williams |
| 2011 | Erik Williams | 11.3 | Sam Houston State | Williams |
| 2011 | Reggie Smith | 5.3 | UNLV | Williams |
| 2012 | Jamail Jones | 16.9 | FGCU | Williams |
| 2012 | T.J. Taylor | 0.0 | North Texas | Williams |
| 2013 | Jamal Ferguson | 4.6 | NC Central | Williams |
| 2013 | Vander Blue | 79.1 | G League/NBA | Williams |
| | | | | |
| --- | --- | --- | --- | --- |
| 2013 | Jameel McKay | 0.0 | Iowa State | Williams |
Buzz had 12 early departures in 6 years, about 2.0 per year. However, of those 12, only Jeronne Maymon, Reggie Smith, Vander Blue, and Jameel McKay seemed to have significant future roles penned in for them. McMorrow and Blue are accented with a different color because their departures weren't traditional transfers. McMorrow was ruled medically ineligible and later transferred while Blue declared for the NBA Draft, went undrafted, and played in both the G League and NBA in the first season after his time at Marquette. Only three players under Williams, Maymon, Blue, and McKay, left for locations that had levels of play that were comparable or at a higher level than Marquette. Generally, when people left Marquette, it was because they weren't good enough and went somewhere they thought they could play. If there is blame to lay at Williams' feet, it is misevaluations in recruiting. Some of the guys he brought in simply weren't good enough to play at this level.

The Buzz Williams tenure at Marquette was just a bit ahead of the NCAA norm. He averaged 2.0 departures per year. That is similar to 2020, the last year before immediate eligibility, when the average number of transfers per school in Division I was 1.83 (648 confirmed transfers for 353 schools). In addition, most of the players that left under Williams were players most of the Marquette fanbase wouldn't remember or miss based on their accomplishments or expectations here.
The Hausers set their sights outside Milwaukee
Photo by Mitchell Layton | Getty Images


Steve Wojciechowski's Lost Team
After Williams left, there was a lot of speculation about how the recruiting class would be lost and the roster would leave. Instead, "...Wojciechowski did something that went unnoticed by many. The first time he walked into the Marquette locker room, with nine young men confused about their futures standing inside it, he gave each player a hug." At the time, it seemed exciting that Wojo retained the roster and later rallied around the #8Strong concept. Most of the recruits left, but Wojo also was able to successfully re-recruit top-100 local kid Sandy Cohen. The end results, however, told a different tale.
| | | | | |
| --- | --- | --- | --- | --- |
| Year | Player | % Minutes | Destination | Original Coach |
| 2014 | Gabe Levin | 0.0 | Long Beach State | Wojciechowski |
| 2015 | Deonte Burton | 10.0 | Iowa State | Williams |
| 2015 | John Dawson | 0.0 | Liberty | Williams |
| 2015 | Steve Taylor | 54.8 | Toledo | Williams |
| 2016 | Henry Ellenson | 82.6 | NBA | Wojciechowski |
| 2016 | Wally Ellenson | 19.0 | G League | Wojciechowski |
| 2017 | Sandy Cohen | 1.5 | Green Bay | Wojciechowski |
| 2017 | Traci Carter | 10.1 | La Salle/Hartford | Wojciechowski |
| 2017 | Duane Wilson | 38.3 | Texas A&M | Williams |
| 2018 | Haanif Cheatham | 9.3 | FGCU/Nebraska | Wojciechowski |
| 2018 | Harry Froling | 17.5 | QBL | Wojciechowski |
| 2019 | Sam Hauser | 82.7 | Virginia | Wojciechowski |
| 2019 | Joey Hauser | 72.7 | Michigan State | Wojciechowski |
| 2020 | Ed Morrow | 15.7 | Unknown | Wojciechowski |
| 2020 | Brendan Bailey | 62.1 | Macedonian League | Wojciechowski |
| 2021 | Symir Torrence | 28.8 | Syracuse | Wojciechowski |
While many expected Wojo's softer touch to result in better player retention, he saw 2.29 players per year leave the program, more than Buzz during his tenure here. It started with Levin, who left before ever suiting up for Marquette, continued with two of the retained players from that first team (Burton and Dawson) leaving before Christmas, and carried on with his own players leaving for both collegiate and professional options. Looking back at Wojo's first #8Strong season, that hashtag only came about because of three departures before Christmas (Levin, Burton, Dawson), and of the #8Strong players that didn't graduate (Carlino, Anderson, Derrick Wilson), most of those still transferred away before their careers were over (Cohen, Carter, Duane Wilson). One of the big differences is that while Williams' departures were largely kids that couldn't make the grade at this level, Wojo lost a lot of players to other high major programs.
An in-their-prime roster of Duane Wilson, Haanif Cheatham, Sam Hauser, Deonte Burton, and Steve Taylor with Joey Hauser, Traci Carter, Gabe Levin, and Sandy Cohen off the bench would be a pretty good college team (though maybe not defensively). In addition, while one can't fault Henry Ellenson for going from top-10 recruit as a freshman to First Round NBA pick after his one season, the other players that left Marquette early for professional options didn't come close to reaching the heights of the sport. It's also worth noting that aside from Dawson and maybe Froling, all of these players had clear futures and roles had they stayed at Marquette.
The problem for Wojo wasn't talent evaluation, it was getting guys to buy in to his program at Marquette, and it showed whether they were major contributors (Bailey, the Hausers), rotation players that other coaches agreed were good enough for the high-major level (Wilson, Torrence), or they were just starting their Marquette careers (Carter, Cohen, Levin). That seems to indicate a culture problem.
Smart hugs Elijah Mitrou-Long as Jaxson Hayes looks on
Photo by Rodolfo Gonzalez | American Statesman

Smart's Culture Approach
In taking over Marquette, Smart did not inherit the level of talent Tom Crean left for Williams nor did he retain the entire roster as Wojciechowski did. Smart has kept a journal from his time at VCU, and one of the lines his younger self wrote about things he would do differently if he had to start over in the future was "All culture for the first two years." Well, here he is, and we've heard a lot about how the focus will be on the culture. Just as telling is looking back on the departures during his time at Texas.
| | | | | |
| --- | --- | --- | --- | --- |
| Year | Transfers Out | % Minutes | Destination | Original Coach |
| 2016 | Jordan Barnett | 1.8 | Missouri | Barnes |
| 2016 | Isaiah Taylor | 76.5 | G League/NBA | Barnes |
| 2017 | Tevin Mack | 35.6 | Clemson | Smart |
| 2017 | Jarrett Allen | 80.2 | NBA | Smart |
| 2018 | Jacob Young | 35.7 | Rutgers | Smart |
| 2018 | James Banks | 6.7 | Georgia Tech | Smart |
| 2018 | Mohamed Bamba | 64.3 | NBA | Smart |
| 2018 | Eric Davis | 48.2 | Unknown | Smart |
| 2019 | Elijah Mitrou-Long | 43.1 | UNLV | Smart |
| 2019 | Jaxson Hayes | 50.0 | NBA | Smart |
| 2020 | Will Baker | 15.5 | Nevada | Smart |
| 2021 | Kai Jones | 54.3 | NBA | Smart |
While Smart saw 2.0 players leave per year, only 1.2 left for anywhere other than to play in the NBA. Of the 6 that pursued pro options, 5 played in the NBA the next season. Mack was dismissed from the team before transferring. 5 players transferred. It doesn't seem to be an evaluation issue, as three went to high major levels and two of those were guys that barely got minutes. Generally speaking, while departures happened, the only times it happened with key players was when they went to the NBA and from a recruiting perspective, it wasn't because they weren't good enough for the high major level.
The question is if this cultural focus will work in an era of immediate eligibility. Smart's history at Texas indicates the talent evaluation is spot on and when players depart to be professionals, that is usually because they are good enough for the NBA. But now that no one has to wait to play, will retaining young talent like Emarion Ellis and David Joplin who have long-term upside but might not see major minutes this year be harder than it was for Smart at Texas? In addition, 40% of the players Smart sent to the NBA were McDonald's All-Americans (Allen and Bamba) which will likely be less common at Marquette.
I will leave you with this. Of the three departure tables above, I think everyone would take Smart's over either of the other two. It shows better recruiting evaluations than Buzz, better buy-in than Wojo, and a better ability to send players to the NBA than both former Marquette coaches combined. Even if you take the five-stars out of the mix, Smart put more players that were not high school All-Americans in the NBA (Taylor, Hayes, Jones) than Buzz and Wojo did combined. And when it comes strictly to transfers out, Smart's average of 0.83 transfers per year is better than Wojo's 1.57 or Williams' 1.67.
However, Smart is the only one that will be coaching Marquette with immediate eligibility for all transfers, which stands to make it more difficult to retain players. Sure, Smart was better at keeping players when sitting out was the alternative, but will that retention ability hold up when young players with bright futures have the chance to go play at another similarly prestigious program tomorrow?

All culture for two years. That's the goal. And considering 9 scholarship players on the roster have up to 4 years of eligibility left, the success of that culture is a huge part of creating a sustainable foundation for the program. If the players buy in as well as they did at Texas, perhaps Marquette can better weather the future in an open transfer market. If nothing else, comparing his predecessor's to Smart's past shows what should be a brighter and more stable future at Marquette.