After two losses to St. John's, Marquette fans are justifiably nervous about the prospects of playing the Johnnies at Madison Square Garden in the Big East Tournament. As I thought about that daunting possibility, I thought back to all the great BET runs St. John's has made at MSG in our years in the Big East...and drew a complete blank.

There's a good reason for that: St. John's hasn't won more than a single Big East Tournament game in a season since the year 2000. So what was going on the last time the Johnnies strung together two straight in the BET & what's happened since?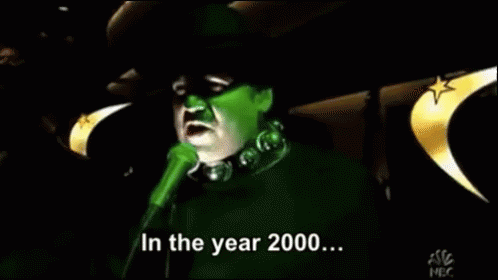 Mike Jarvis was the coach of St. John's. Since then, 6 different coaches (including Jarvis) have tried to replicate the feat, but Kevin Clark, Norm Roberts, Steve Lavin, Mike Dunlap, & Chris Mullin all failed.
Tom Crean was just finishing his first season at Marquette.
Markus Howard had just celebrated his first birthday a week before. Joey Hauser was only 8 months old while St. John's forward Marcellus Earlington had not yet been born.
Current St. John's coach Chris Mullin was still playing in the NBA for the Indiana Pacers.
Current Marquette coach Steve Wojciechowski had just returned from Poland & was in his first year as an assistant coach at Duke.
Marquette legend Dwyane Wade was still in high school, averaging 27 ppg/11 rpg as a senior.
The legend of Mark Few was just getting started. He coached his first year at Gonzaga, highlighted by beating St. John's in the NCAA Tournament to advance to the Sweet 16.
Soon after, Tom Izzo & Michigan State won the NCAA title. No Big 10 team has cut down the nets since.
Since then, St. John's is 7-14 in the Big East Tournament. That includes an 0-4 record against Marquette.
The Twin Towers were still standing in Manhattan.
None of the Marquette podcasts existed because the RSS feed concept that makes podcasting possible wouldn't exist for another 7 months.
Facebook & Twitter didn't exist.
The most popular television show was the first season of "Who Wants to be a Millionaire?"
NBA MVP Shaquille O'Neal was leading the Los Angeles Lakers to the NBA title.
None of this is to say St. John's can't win two games or even the entire tournament. But for St. John's to beat DePaul & Marquette on successive nights, it would require them to do something they haven't done since the calendar first turned the millennium. Here's the updated S-Curve:
1-Seeds:
1-VIRGINIA, 2-North Carolina, 3-Gonzaga, 4-Duke
2-Seeds:
8-Michigan, 7-MICHIGAN STATE, 6-Tennessee, 5-Kentucky
3-Seeds:
9-Texas Tech, 10-HOUSTON, 11-LSU, 12-Purdue
4-Seeds:
16-KANSAS STATE, 15-Wisconsin, 14-Florida State, 13-Kansas
5-Seeds:
17-Virginia Tech, 18-Marquette, 19-VILLANOVA, 20-Maryland
6-Seeds:
24-NEVADA, 23-BUFFALO, 22-Misissippi State, 21-
WOFFORD
7-Seeds:
25-Iowa State, 26-Auburn, 27-Utah State, 28-VCU
8-Seeds:
32-Iowa, 31-Louisville, 30-Cincinnati, 29-WASHINGTON
9-Seeds:
33-Mississippi, 34-Baylor, 35-Syracuse, 36-Ucf
10-Seeds:
40-Minnesota, 39-Seton Hall, 38-Temple, 37-Oklahoma
11-Seeds:
41-Belmont, 42-Tcu, 43-Ohio State, 44-Unc Greensboro/45-Creighton
12-Seeds:
50-
ST. MARY'S (CA)
49-Lipscomb/48-Clemson 47-
LIBERTY
, 46-
MURRAY STATE
13-Seeds:
51-NEW MEXICO STATE, 52-HOFSTRA, 53-OLD DOMINION, 52-UC IRVINE
14-Seeds:
58-MONTANA, 57-GEORGIA STATE, 56-HARVARD, 55-VERMONT
15-Seeds:
59-COLGATE, 60-
NORTHERN KENTUCKY
, 61-
BRADLEY
, 62-
GARDNER WEBB
16-Seeds:
68-
IONA
/67-
FAIRLEIGH DICKINSON
, 66-NORFOLK STATE/65-SAM HOUSTON STATE, 64-PRAIRIE VIEW A&M, 63-
NORTH DAKOTA STATE
Last Four Byes: Oklahoma, Belmont, TCU, Ohio State
Last Four In: UNC Greensboro, Creighton, Clemson, Lipscomb
First Four Out: St. John's, Indiana, NC State, Florida
Next Four Out: Texas, Furman, Arizona State, Alabama