Illinois Fighting Illini
November 15, Fiserv Forum, 6:00 pm
Head Coach: Brad Underwood (193-107 overall, 71-56 at Illinois)
3-Year NET Average: 50.7
3-Year kenpom Average: 39.3
Projected 2021-22 T-Rank: 5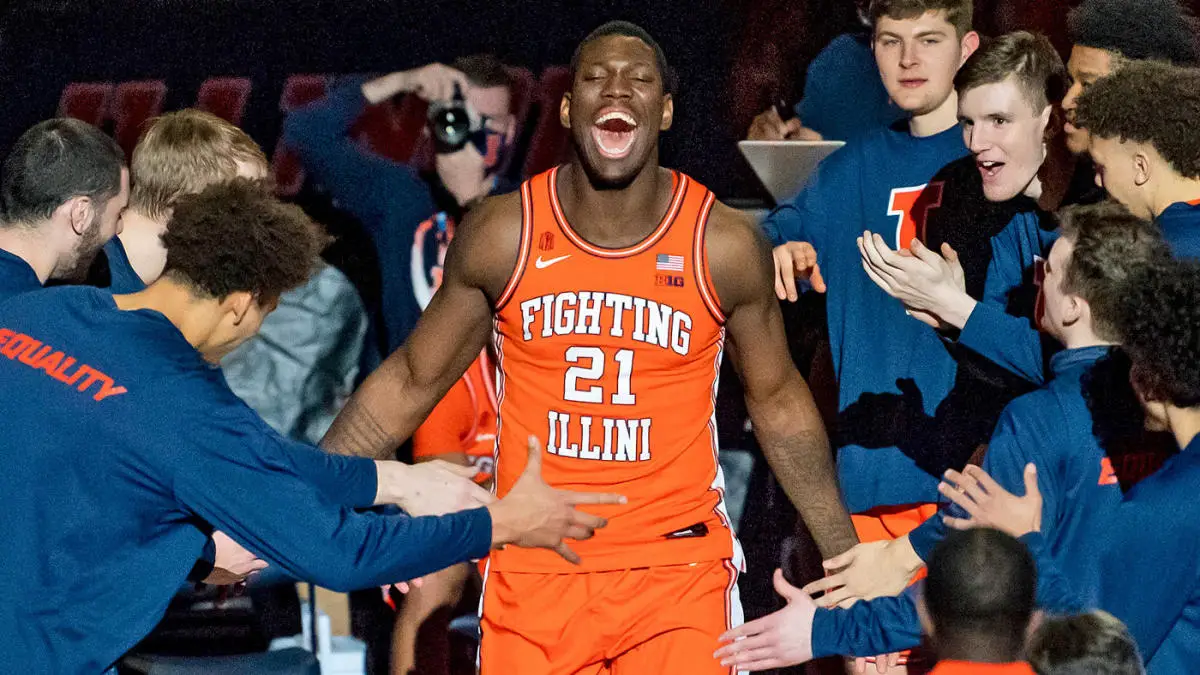 Illinois star Kofi Cockburn is a legitimate National Player of the Year contender
Photo from CBS Sports

Projected Starters: PG Andre Curbelo (6'1" So), SG Alfonso Plummer (6'1" Sr), SF Trent Frazier (6'2" Sr), PF Da'Monte Williams (6'3" Sr), C Kofi Cockburn (7'0" Jr)

It took a few years, but Brad Underwood seems to have it figured out at Illinois. They were a projected NCAA team in 2020 before watching it all come together in 2021 as they finished the season with a Big 10 Tournament title and 1-seed in the NCAA Tournament. They were a complete team, ranking in the top-10 in both offensive and defensive efficiency on kenpom. Consensus First Team All-American Ayo Dosunmu was arguably the best closer in college basketball while Second Team All-American Kofi Cockburn was one of the most physically imposing big men in the country. They had national title aspirations before bowing out prematurely (but predictably, for Cracked Sidewalks readers) in the second round to Loyola-Chicago.
Dosunmu is gone, but three of the top four scorers are back, including Cockburn, who is getting preseason First Team All-American and National Player of the Year buzz. Stepping into the spotlight for Dosunmu will be Andre Curbelo, who averaged an impressive 14.7 ppg/8.3 rpg/3.7 apg during a three-game stretch when Dosunmu was out last year and is getting some All-American buzz. Illinois rounds out their rotation with experience, as Trent Frazier, Da'Monte Williams, Alfonso Plummer, and Jacob Grandison are all seniors. Plummer will likely be expected to help fill in the loss of Dosunmu's scoring punch after transferring from Utah. Another transfer, junior Omar Payne, gives the Illini efficient depth and shot-blocking behind Cockburn. Size will be a big question, though, as the most proven players other than Cockburn are 6'3" or shorter. Don't be surprised to see Grandison or Coleman Hawkins get some run alongside Cockburn just to get some size on the floor. How much trouble they have with bigger teams on both ends of the court will be interesting.

Illinois runs a Spread offense. Expect Cockburn to position down low with the other four players interchangeably spread out at the three point line. They will make multiple cuts to the rim, looking to get easy lay-ups or alley-oops. The majority of their points will come inside the arc as close to the rim as possible. That said, they do have shooters. Da'Monte Williams was a low-usage killer last year who shot 54.7% beyond the arc. Curbelo, Frazier, and Grandison can also all knock down threes. Defensively, Underwood made a big philosophical shift and it's paid off. Previously, Underwood's teams were high-pressure on defense, forcing turnovers while putting teams on the line routinely. He radically changed that, going from a perennial top-10 team in defensive turnovers (4/5 years from Stephen F Austin to Illinois) to a team that doesn't force many turnovers but dominates the interior, both from a shot-contesting and rebounding perspective while sending teams to the line far less frequently. As a result, his defense went from an average 118.5 ranking in kenpom his first two years at Illinois to 21.0 the past two years, peaking at #7 last year. Illinois has a staff that understands analytics and has used it to maximize their efficiency on both ends of the court.
Illinois may lose some dynamism without Dosunmu, but this is still a team that will be a top contender in one of the best leagues in the country. Cockburn is a monster inside and he's surrounded by a wealth of talented guards and wings. While they will likely take a slight step back from last year, there is enough talent to mitigate Dosunmu's loss. Per Torvik, they are favored in 27 of their 30 games this year. This is the best early measuring stick for Marquette, but my advice is to expect a loss. Illinois is experienced, cohesive, and really, really good. For Smart's team to stick with them, they will need to swarm the ball on defense and force their passers into mistakes while getting (and staying) hot on the offensive end. Considering how early in the season this one is, I think this is the toughest test Marquette will face at home this year. If Marquette somehow manages to squeak it out, quite a few fans will be breaking out polish for their dancing shoes.
Marquette Connection: Aside from the recruiting trail, the teams haven't met much in recent memory. That said, while Marquette has just a 5-9 record against Illinois all time, they have won four of the past five matchups between the teams, including two home wins for Marquette over ranked Illinois teams. The most recent came in 1993, when Marquette knocked off #16 Illinois as both Robb Logterman and Damon Key put up 18 points. Though back to recruiting...Shaka Smart will hope to do better than Steve Wojciechowski did against Illinois. If Ayo Dosunmu had stuck around, he could've formed a starting five of Illinois players targeted by Marquette along with Andre Curbelo, Luke Goode, Brandin Podziemski, and Coleman Hawkins.