West Virginia Mountaineers
November 19, Charleston, SC 6:00 or 8:00 pm

Head Coach: Bob Huggins (900-381 overall, 310-170 at West Virginia)
3-Year NET Average: 48.3
3-Year Kenpom Average: 42.7
Projected 2021-22 T-Rank: 35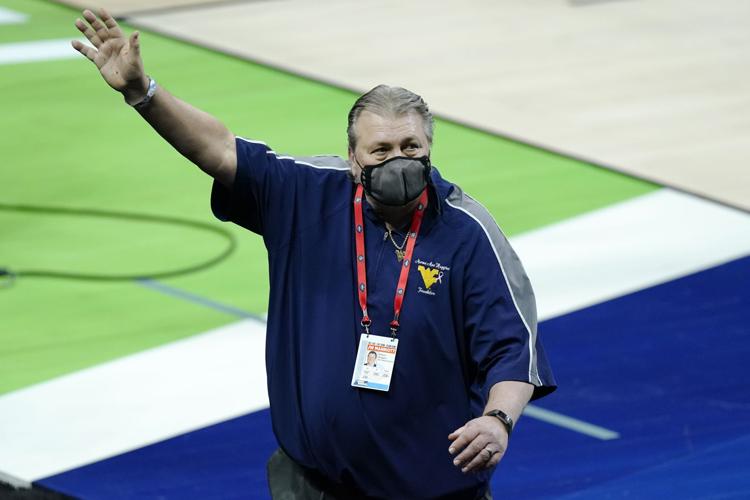 Familiar foe Bob Huggins celebrated his 900th win in the 2021 NCAA Tournament
Photo by Mark Humphrey -- Huntington Herald-Dispatch
Projected Starters: PG Malik Curry (6'1" Sr), SG Sean McNeil (6'3" Sr), SF Taz Sherman (6'4" Sr), PF Jalen Bridges (6'7" So), C Gabe Osabuohien (6'7" Sr)
Last year's West Virginia felt like the antithesis of Bob Huggins basketball, but also exemplified why he's such a great coach. He had a team that couldn't stay with their own shadows on the defensive end, especially once big man Oscar Tshiebwe left midseason. Rather than trying to gut it out, he shifted to a perimeter oriented attack, giving his shooters the freedom to let it fly while continuing to relentlessly attack inside seeking fouls and second chance opportunities. The result was a massive flip from the year before as per kenpom the offensive rank improved from #67 to #12 but the defense plummeted from #3 to #70. Despite the change, Huggy Bear still earned a 3-seed in the NCAA Tournament.
The two most prolific scorers from a year ago, Miles McBride and Derek Culver, are gone, but they return plenty to be excited about. Both McNeil and Sherman averaged double-digit points last year while Bridges was a low-usage efficiency monster that shot over 40% from deep and excelled attacking the offensive glass. Osabuohien moves from a platoon role as a defensive stopper to the forefront. Curry transferred in from Old Dominion and will seek to fill McBride's NBA-sized shoes. The Mountaineers have depth in the front court with Isaiah Cottrell and DePaul transfer Pauly Paulicap (who really should change his name to Westy Westvirginiason) but their backcourt reserves are all freshmen.
Offensively, Huggins is planning to use a 4-out, 1-in system. Osabuohien will be the man in the middle and everyone else will be focusing on either getting open for a three or attacking the rim. While the NBA-bound McBride seems like the bigger loss, the real question will be if they can get offensive contributions from the middle without Culver. The big man put a ton of pressure on opposing defenses by demanding the ball, dominating the glass, and drawing fouls. Osabuohien is a different type of offensive player, better as a passer than as a shooter, where he had an abysmal 34% 2PFGs/33% 3PFGs/39% FTs shooting split. On the defensive end is where he shines. While undersized, he can man the paint on his own, allowing the wings to fly around and apply pressure. This team won't be back to full on Press Virginia, where they pick teams up 94 feet from the rim, but they will throw multiple pressing looks at opponents, seeking to create havoc for inbounders and primary ball-handlers alike.
This feels like the kind of team that will get better as the season goes on. How they incorporate their transfers and where they find guard depth are questions that will need to be answered but probably won't definitively be figured out before the end of November. While playing in the Big 12 will make for a tough road, West Virginia has shown time and time again they are part of the reason that road is so tough. They look like a NCAA team, though likely not as highly seeded as they were a year ago. If Marquette meets the Mountaineers, they will be underdogs, but this may be a matchup they are uniquely well-suited for. Marquette will be playing against pressure every day in practice and the quick inbounds with no dedicated primary ball-handler may give them an edge against a team specifically targeting those aspects of the opponent offense. If nothing else, it would be a renewal of acquaintances for both Marquette and Shaka Smart against Bob Huggins. Marquette is 16-22 against Huggins (but 5-2 against his WVU teams) while Smart is 7-6 against Huggins, all in his time at Texas.
Marquette Connection: Raise your hand if you remember the last time Marquette faced West Virginia! If images of Buzz Williams are (literally) dancing in your head, you are correct. It was 2012 and Marquette was facing West Virginia for the last time before they turned in their Big East coats for Big 12 apparel. In addition to facing perceived 2012 Big East Player of the Year front-runner Kevin Jones, Buzz benched starters Darius Johnson-Odom, Vander Blue, and Junior Cadougan in the first half and West Virginia Todd Mayo in the second half for violations of team rules. WVU took advantage, building a 37-22 lead early in the second half before Jae Crowder took over. The actual 2012 Big East Player of the Year keyed a 24-8 run as he tallied 26 points and 8 rebounds enroute to the 61-60 Marquette win. After the game ended, Buzz Williams danced to John Denver's Country Roads as Mountaineer fans became apoplectic and Buzz created a moment that rivaled Al McGuire jumping on the scorer's table after beating UW-Madison.