As of right now, the Big East would have 10 teams in the tournament just one year after landing a record 11 teams. That said, some of those teams still need help to stay on the right side of the bubble. Despite being higher on the S-Curve, teams like West Virginia, Connecticut, and Seton Hall may be in more danger than USF, who has been hot of late. USF likely secured their spot with the win at Louisville, while WVU may have done the same by returning that favor on the Bulls' court yesterday. The Hall also looked to have locked up a spot with their win against Georgetown, then came up short against Rutgers and DePaul. UConn's failures stretch back further, as they've gone 6-11 in their past 17 games. The Big East tournament will determine a great deal. USF and WVU probably only need one win to guarantee a spot, while UConn and Seton Hall need two wins apiece to truly feel secure. Here's the current S-Curve: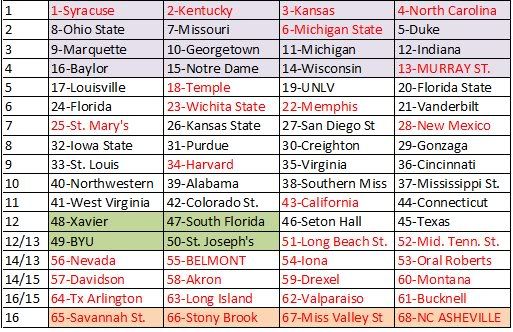 First Four Out: Miami, Dayton, UCF, VCU
Next Four Out: Arizona, Tennessee, NC State, Mississippi

One thing that should unnerve the Big East borderline teams are the potential bid-stealers. Here's a look at a few teams that could spoil Selection Sunday for some of the teams on the bubble:

Illinois State: The Redbirds beat Wichita State yesterday and could steal a bid if they can knock off Creighton. The Bluejays are safely in the tourney, while ISU has no hope outside of winning the conference tourney. Jackie Carmichael will be the key to any upset hopes they have. He is averaging 13.7 ppg and 9.6 rpg on the season, but only 10/5 in two games against Creighton. If Carmichael comes through, the Redbirds could be dancing.

Pennsylvania: Penn is hoping to do what Princeton did a year ago and knock Harvard off in a 1-game playoff. Coincidentally, it is Princeton that Penn has to beat to get to that playoff. Harvard should be safely in the field regardless, but Penn is a legitimate contender to steal a bid, as they did win at Harvard just over a week ago.

Cal Poly: Long Beach State has a solid resume and would be right in the mix as a bubble team if they lose in the Big West Tournament. Cal Poly is the only Big West team to be within single digits of LBS twice this season. They can play with the Beach. If they beat UC-Riverside, they could have a chance to steal the auto-bid on Friday.

Washington: California will be in the field, so almost any Pac-12 team could be a bid-stealer. But after Washington's loss to UCLA, they have virtually no chance of making the field without the auto-bid. But watching them play close to Marquette and Duke earlier this season, they are a team that can play with anyone in the country. They've stolen the auto-bid before, they could do it again.