Despite Marquette's loss to Louisville, the Warriors remain at #9 on the S-Curve. The only teams immediately behind them that really did anything of significance were Baylor, Notre Dame, and Louisville. But Marquette is far enough up the curve that none of them caught MU from behind. That could change today, with Indiana, Michigan, Baylor, and Louisville all in action again today. Even still, for Marquette to drop off the 3-seed line would seem highly unlikely. If the Indiana/Wisconsin winner and Michigan both reach the Big Ten final, Baylor wins the Big 12, and Louisville wins the Big East, I could see Marquette dropping to a 4.

There were two big changes, the first being Cincinnati rising from a 9-seed to a 7-seed with their win over Georgetown, largely because most of the teams between where they were and where they now are were either idle or lost. The other was Tennessee and St. Joseph's moving into the field. One spot opened with the Northwestern loss while the other benefited from Washington losing, which put Cal back as the only Pac-12 team in the field. Here's the S-Curve: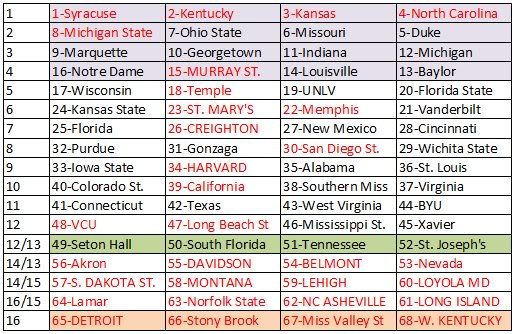 First Four Out: Dayton, Miami, Mississippi, Iona
Next Four Out: Drexel, Arizona, Northwestern, Oral Roberts

I think what amazes me right now is how poorly bubble teams are playing. Northwestern had to have a win over a spiraling Minnesota team and blew it. Washington was playing a team they had defeated twice in the regular season and again Tony Wroten failed to deliver at the line, which moved them not only out of the auto-bid position but out of at-large consideration. Mississippi State has dropped close to the last four by losing again to a bad Georgia team. Ultimately, the beneficiaries might be the mid-majors. At this point, I still have Iona, Drexel, and Oral Roberts on the outside looking in, but I could easily see the Selection Committee rewarding them with bids when all is said and done simply because so many teams on the brink don't look like they want it. Only Texas really stepped up off the bubble yesterday. Now the question is if teams like St. Joe's, Tennessee, Dayton, Miami, and Mississippi can follow suit, or if they will squander opportunities and open the door for teams that currently look NIT-bound.