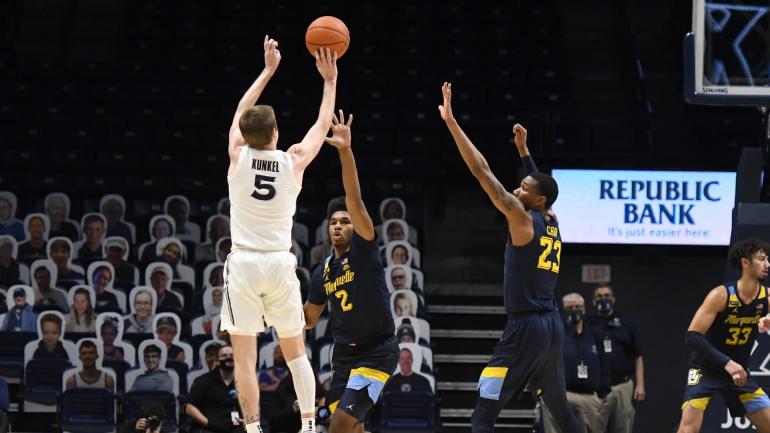 Adam Kunkel sinks Marquette with a late three | Photo Courtesy of CBS Sports
It wasn't long ago that Brian Hamilton at The Athletic was writing about the improvement of Marquette's defense. With veteran players like Theo John and Jamal Cain that had years in the system, guards with lockdown defensive ability like Koby McEwen and D.J. Carton, and freshmen with length in the rotation like Dawson Garcia and Justin Lewis, it finally seemed that Marquette had all the elements to turn Steve Wojciechowski's defensive reputation into a reality that had yet to be realized in Milwaukee.
While the defense started well, it's starting to look like those early numbers might not have been indicative of what we will actually see this season. After the Oklahoma State game, Marquette's defense was ranked #24 on kenpom.com, having held their first three opponents below 0.900 points per possession. The eFG% was a suffocating 35.6%. Since then, the defense has gone in the opposite direction. Every opponent has managed over 1.000 points per possession, including more than 1.250 for both Creighton and Xavier. The eFG% is down to 46.3 for the season, but that's because they have allowed 52.2 defensive eFG% in the past 6 games, which is 213th in the country over that span.
| | | |
| --- | --- | --- |
| Opponent | PPP | eFG% |
| Arkansas-Pine Bluff | 0.750 | 29.5 |
| Eastern Illinois | 0.694 | 32.0 |
| Oklahoma State | 0.897 | 45.8 |
| UW-Madison | 1.032 | 43.8 |
| UW-Green Bay | 1.015 | 46.0 |
| UCLA | 1.062 | 46.4 |
| Creighton | 1.254 | 60.3 |
| Seton Hall | 1.045 | 51.9 |
| Xavier | 1.319 | 65.2 |
Obviously no segment of the season is played in isolation, but looking at T-Rank from December 2 until now, Marquette's adjusted defensive efficiency is ranked #195 in the country. That's worse than any complete season in the Steve Wojciechowski era. It's worse than the 2017 team that was his first NCAA bid and it's worse than the 2018 team with Andrew Rowsey and Markus Howard limiting Marquette's perimeter size. To Marquette's credit, the first three games of the season still count, which puts the overall ranking at #71 nationally, but it's starting to look like those performances were more the outliers than an actual indicator of defensive improvement.
Further, while the season is young, the idea that this team will automatically improve because they are young may be unfounded. Marquette starts three seniors who have 13 years of D1 experience between them. They have another fourth-year junior on the bench and two sophomores in what appears to be an 8-man rotation. While there are also two freshmen in the rotation, Pomeroy rates Marquette #181 in experience and #161 in minutes continuity (the returning minutes that are continuing to play this year). Even with only 328 teams playing so far this season, that is still about middle of the pack in terms of experience. Not an old team, but not a young team either. At this point, the UAPB and EIU games are doing a lot of work in terms of this defense looking marginally respectable, though that marginal respectability is sliding backwards on a game by game basis.
The question is, if this team isn't as offensively gifted as the teams we've had in recent years and the defense isn't the calling card it looked to be a couple weeks ago, what is this team's path to success this year? The coaching staff will need to come up with an answer fast, because with Marquette already in the thick of Big East play, the schedule won't be easing up any time soon.