Imagine that tomorrow, Marquette was in the market for a head coach and I told you they could not only go after a sitting high-major head coach with a National Championship, two additional Final Fours, and 14 bids in the past 15 NCAA Tournaments, but could give that coach a raise? Or they could target a former high-major head coach with 11 years at the D1 level, a Final Four appearance, 7 NCAA bids in 8 seasons at their last high-major job, and was currently sitting on a NBA bench as an assistant coach, and could similarly offer that coach a significant pay raise? Or they could bring back a Marquette alum that had multiple conference championships and NCAA bids while coaching in the Big East?

To be clear, this is not an article about replacing Steve Wojciechowski. There is more than enough discussion of that on Twitter and message boards, and in all honesty, I don't think anyone with legitimate connections to the program believes Marquette will be in the market for a head coach in the coming off-season. However when these discussions do occur, I find it increasingly odd that we never hear a woman's name mentioned not just for Marquette but for any job. The premise here is born out of a tweet I sent earlier this month:
Love Bob Richey. In addition to the obvious names to come up (Wardle, TJO) I would add Scott Nagy, John Becker, LeVelle Moton, Jennie Baranczyk, Craig Smith, Andrew Toole, and Wes Miller. Probably call Beilein too, just in case.

— Alan Bykowski (@brewcity1977) January 3, 2021
I deliberately put Jennie Baranczyk's name in there for two reasons. First, I was hoping by name-dropping a former Marquette assistant for the women's team it would spur some discussion. Second, I think it's a truly valid question as to why when openings in men's basketball come up, we NEVER hear women mentioned for those jobs. The conversation that began there also led to a companion piece by Patrick Madden of The Big Big East Blog that also came out today in which he digs deeper into some of the trailblazers mentioned below, places where women have already shown the ability to break through, and other candidates that might eventually take on the challenge I alluded to regarding Baranczyk.

It's somewhat amazing that Edniesha Curry and Corin "Tiny" Adams are the only female assistant coaches in NCAA Men's Division I basketball. Curry at Maine and Adams at Loyola-Maryland are just the fourth and fifth women in Men's Division I history, dating back to Bernadette Mattox, who was hired by Rick Pitino to join the Kentucky bench over 30 years ago, in 1990. Meanwhile, with less than 1/10th the teams, the NBA has nearly double the number of ACTIVE female assistant coaches with 9 women currently sitting on NBA benches.
Edniesha Curry handling a practice for the Maine Black Bears
Photo Courtesy of the Morning Sentinel

It seems inevitable that in the next few years, San Antonio Spurs assistant coach Becky Hammon will become a NBA head coach. Hammon interviewed for the Milwaukee Bucks opening a couple years ago and already became the first woman to take the head coaching reins when Greg Popovich was ejected from a Spurs game on December 30, 2020. It seems to be only a matter of time before Hammon takes the role full time, whether that's in San Antonio when Popovich retires or sooner if another team hires Hammon to break the gender line.
Basketball is ultimately a game about math. Whether it's the simple equation of determining which team's points are greater than the other team's when the horn sounds or the advanced analytics that drive NCAA Tournament Selection through the NET, kenpom, and other advanced metrics, this game is about math. It's rather silly in 2021 to imagine that there aren't women out there that can do math just as well as men. Let's not forget, Hidden Figures was based on a true story.
In addition, there are already women who have proven they can coach basketball. Consider names like Pat Summitt or Muffet McGraw. Both are household names among college basketball fans, even those who don't closely follow the women's game. Even names like Tara Vanderveer, Kim Mulkey, and Dawn Staley are familiar to most who follow D1 hoops. There's no reason to think coaches like Summitt, McGraw, and others couldn't have been incredibly successful in the men's game as well. The only arguments against them, such as whether they would be respected by male players, could recruit male players, or can keep up in a male-dominated world are the same arguments used against black coaches 40 years ago.

The skills required to succeed as a coach in Division I basketball are rather similar, regardless of gender. Coaches need to know how to recruit, how to coach X's and O's, how to manage egos, and how to work within the numbers of NET and scheduling. So why on earth have we not seen a woman get a chance to run one of these programs? Not only get a chance, but has there ever been a woman interviewed to coach a Division I Men's Basketball program? I can't find any evidence of it, and if the answer is no, the level of misogyny coming from that is through the roof. It's hard to imagine a program like Marquette not entertaining minority candidates, so why on earth would they not consider female candidates for their job as well?

Eventually, a woman will cross the coaching gender line. I fully acknowledge not everyone would want to be that first, but the program that eventually makes that hire could be getting someone far more established than they could realistically target if they stick to the misogynistic stance of only interviewing men. The reality is that coaches with the track records of Bill Self, Tony Bennett, and Jay Wright don't change jobs very often. The only established blue blood coach to leave for another college job without being pushed out the door in the last 20 years was Roy Williams. Yet there are a crop of elite college coaches at women's programs like Baylor, Stanford, and South Carolina that are never considered when men's programs are looking for a new head coach.

With that in mind, I decided to consider five candidates that I feel would be worth calling if Marquette suddenly found themselves in need of a head coach.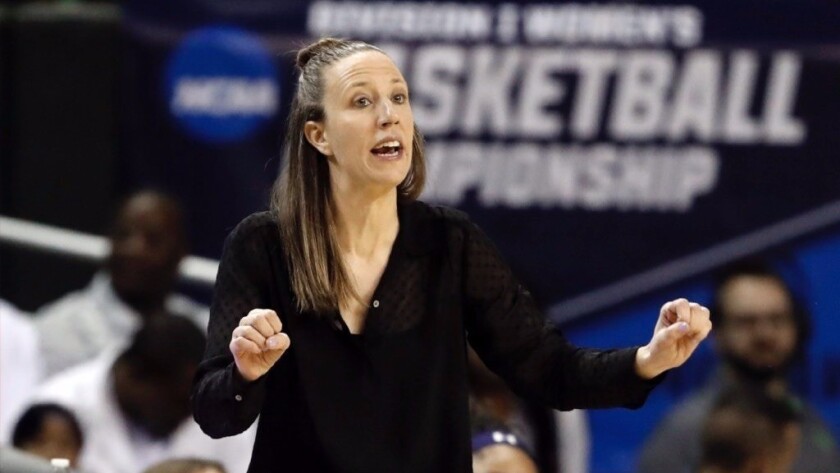 Lindsay Gottleib has Final Four and NBA experience
Photo by Tony Gutierrez, Associated Press

Here are the first 5 calls I would make:
1) Lindsay Gottleib, Cleveland Cavaliers: Gottleib is currently an assistant with the Cavs, which means bringing NBA experience that will carry immediate credibility with collegiate players and recruits. She was also a successful college coach, having spent 11 years as a D1 coach, including 8 years as coach of the California women's team. In that stretch, Gottleib took the Lady Bears to the NCAA Tournament 7 times and also to their only Final Four appearance. She is responsible for as many NCAA bids at Cal as all the previous coaches in the 38 prior years of program history combined. In addition, Gottleib's reported salary in Cleveland is around $500,000, which any high-major program could eclipse with relative ease. She has already proven a trailblazer by going from Women's D1 Basketball to the NBA so there's reason to think she might be interested in also being the first woman to coach a Men's D1 team. I think any program would be hard-pressed to find another 43-year-old coach with experience in both the Final Four and the NBA. I mean, even Brad Stevens is older than that. Men's Comparison: Juwan Howard in that she brings immediate NBA credibility and experience while having a track record of success.

2) Brenda Frese, Maryland: I feel like if Marquette were to make one of these hires, the woman would need the potential to become an icon, which means longevity. At 50, Frese is the oldest candidate on the list, but certainly young enough to coach for 15-20 years, if not longer. In addition, Frese's resume is phenomenal. She is the youngest female coach in D1 basketball with 500+ wins. She also has a National Championship (2006), two additional Final Fours (2014, 2015), three more trips to the Elite Eight, and a National Coach of the Year award. Her teams are frequently ranked in the top-10 as are her recruiting classes. Frese has also shown a willingness to borrow from the men's game, reconfiguring her defense after watching Chris Beard's Texas Tech team reach the National Championship Game. Her estimated $1,300,000 salary would be more to outbid, but there really aren't any mountains she hasn't already climbed in the women's game, so if she wanted to take on the men's coaching establishment, it would be worth the call. Men's Comparison: Jay Wright because she has been doing this for a long time at the highest level and has nets she cut down to reinforce her resume.

3) Adia Barnes, Arizona: The Wildcats had fallen from grace when the now 43-year-old Barnes took over, but in five years she has transformed them into a top-10 team. This all came on the heels of her work as an assistant at Washington, where she helped them to the Final Four in 2016. COVID cost her the chance to break a 15-year NCAA Tournament drought but her team rebounded phenomenally and now looks like one of the best in the country. Barnes was a star at Arizona decades ago and played in the WNBA, but what really revolutionized her coaching was spending time playing in Europe. She used those connections to improve her recruiting once she got the Arizona job and was credited with helping Sean Miller improve his European recruiting on the men's side. While she is an alum of UA, we have already seen how those ties aren't always that strong (see below), especially when Barnes was in the mix for the Duke women's job last year and when she's making just $400,000/year with the Wildcats. Men's Comparison: Chris Beard because like Beard, she has imposed a strong defense, found immediate success at a place not known for it, and was competing at the top of her sport within the first couple years on the job.

4) Nicki Gross, Vanderbilt: At age 31, Gross is the youngest coach on this list. She also has perhaps the least likely path to high-major basketball. Gross was a soccer player for Seton Hall, but after graduating went to Monmouth for her MBA and was a graduate assistant for the men's basketball team. From there, she got the coaching bug. After her time at Monmouth, she moved on to the G League where she started as the video coordinator for the Iowa Energy in 2014-15 before getting a full assistant coach position in 2015-16. From there, she spent two years working for Jerry Stackhouse with the Toronto G League affiliate before following him to Vanderbilt as Special Assistant to the Head Coach. Her duties include scouting, practice plans, and staff management. While she may not have the resume of some of the others on this list, she already has a foot in Men's Division I basketball and has experience coaching pros. Gross's career path has been on a meteoric rise every since she was at Monmouth and she has earned praise from her employers. She seems like a certain future head coach, so why not give her a shot now? Men's Comparison: Buzz Williams not because of any easy comparison, but because of the surprising path she took to where she is, having not played college basketball but working hard at the typically overlooked levels of the sport before latching on to a Division I program.

5) Carolyn Kieger, Penn State:
This name is familiar because on a Marquette blog, I felt we needed at least one direct Marquette connection. Kieger played for Marquette, began her coaching career here under Terri Mitchell, then took over the program, returning from Miami (Fl) to coach her alma mater in 2014. In her five years here, she built the Marquette women's team into a top-25 regular, winning two Big East regular season titles and a Big East Tournament title. But the Big East in women's basketball is not the league it is in the men's game, so she left for a Big 10 job in 2019. Kieger is just 37 years old but has a keen understanding of not only Marquette University but the
direction the modern game
is taking. While I could see arguments for either Jennie Baranczyk (former MU assistant, now head coach at Drake) or Megan Duffy (current MU women's coach) I feel like Kieger is the most proven woman with a Marquette connection, and the one who has the best ability to hit the ground running at Marquette due to her time here as both player and coach.
Men's Comparison: Brian Wardle
because her name is familiar to the Marquette family and she brings immediate credibility from past programs she has ran, with the main difference being Kieger has already done it here.