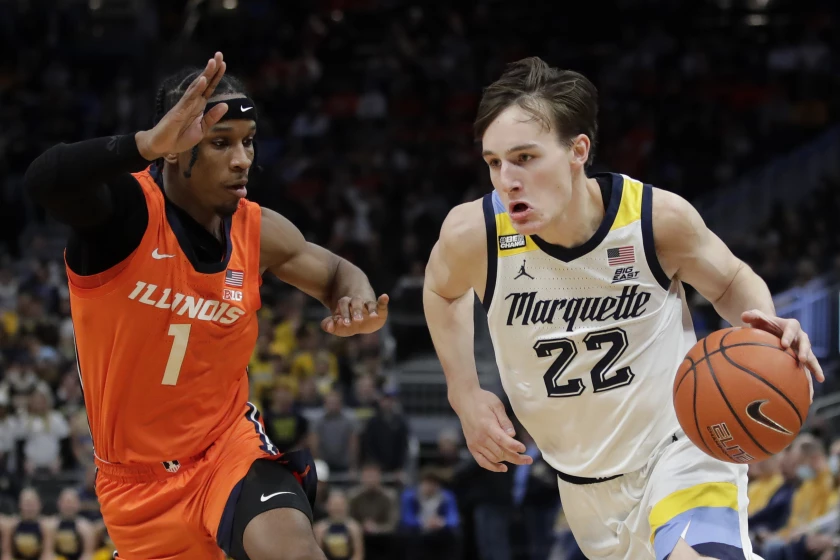 Tyler Kolek gave Marquette fans a little magic against Illinois in 2021
Photo by Aaron Gash | AP Photo
We're moving into summer, which means there isn't a lot of Marquette news coming out. While we all await a final decision from Justin Lewis, a TBT tournament roster and (hopefully deep) run, and the impending hot weather to clear out so we can get back to basketball season, I thought I'd take some time to update everyone on what we know about Marquette's non-conference schedule.
Season Opener: Radford on November 7th
After being perennial Big South contenders under Mike Jones, it didn't start well for Darris Nichols, who posted the Highlanders' first losing record since 2017. They project to be even worse in year two, but have a radically different roster thanks to the transfer portal. This should be a soft start.
Fort Myers Tip-Off: LIU on November 17th, Georgia Tech/Utah/Mississippi State on November 21st & 23rd
LIU projects as the worst of the Palms Division campus games according to T-Rank, but they do have some upside thanks to three returning starters. On paper, Georgia Tech and Mississippi State are the two best potential opponents in Fort Myers, but Marquette should come into the tournament as a favorite on paper regardless of the draw.
Baylor on November 29th
This is the big one. The Bears project as a preseason top-10 team like Illinois did last year and have national title aspirations after winning it all in 2021. Mark your calendars, this could generate a lot of buzz, especially if Marquette comes into this one undefeated.
UW-Madison on TBD (December 3rd)
Unless they put this on a Sunday, the date for this will be December 3rd, making for a big week at Fiserv with Baylor and Bucky back-to-back. With Johnny Davison and Brad Davison (finally) gone, this should be a down year for the Badgers, but we hear that every year, so don't expect it to really happen. Why are we so confident in December 3rd? It won't be the first weekend of the season, it won't be in the middle of Fort Myers, and it won't be the week after (Notre Dame) so that really only leaves one realistic date on the calendar.
At Notre Dame on December 11th
Marquette renews the series with Notre Dame with a home and home starting on the road. It's a bit surprising that this will be on a Sunday, but any way we get this series back is welcome so let's just celebrate that it's happening. T-Rank projects the Irish as a top-half ACC team, so this should be a tough challenge.
TBD: Gavitt Games
Marquette isn't guaranteed to be included (Butler, Georgetown, Villanova, Xavier should be locks based on only playing 4 previous Gavitt Games) but it's a strong bet that we'll have a road Gavitt Game. If you're wondering where we might be headed, Iowa, Maryland, Michigan State, Minnesota, Northwestern, Penn State, and (ugh...again?) Purdue all have yet to fulfill their Gavitt obligations, so those are the most likely destinations.
TBD: Home Games
If this all comes to pass, that gives Marquette six high-major games and two low-major games. It also puts four home games on the schedule to go along with the eleven known Big East home games. Expect the last three to all be guarantee games. I would be surprised if one of them isn't a fairly ambitious buy game. While the 2015-16 Belmont game came from an exempt tournament, Marquette pursued a quality non-con guarantee game in every non-conference schedule. 2016-17 Fresno State, 2017-18 Vermont, 2018-19 Buffalo, and 2019-20 North Dakota State were all coming off NCAA bids. Don't be surprised to see similar ambition with one of those games going to a tourney team like Montana State or a high-upside mid-major like Toledo.