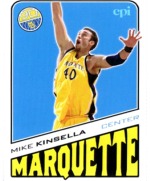 UPDATED

Dan Fitzgerald hit a career 20 points, and Mike Kinsella hit two 3-point bombs to lead Marquette over St. John's 76-67. With the win, Marquette improves to 24-8 on the season. Fitzgerald was moneyesq.

Kinsella picked up 5 rebounds and 3 assists in only 14 minutes. Gotta love how Mike has played his last two games in the Blue and Gold. I admit it, I've always had a bit of a man crush on Mike Kinsella, wishing he'd get more PT and take care of business. Now that he leads the team in 3-pointer% (80%), I imagine others will jump on the Kinsella bandwagon.

Dominic James had a horrific shooting night, going 2-14, and one of those was a layup in the first 2 seconds of the game. He dished out 8 assists and distributed the ball well.

Marquette faces Pitt for the 3rd time this year, Thursday night at 8pm.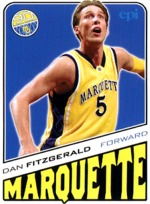 With two of the Cracked Sidewalks team at the MSG tonight, you can expect some first hand reports of tonight's game and the MU events in New York.

Official MU Box Score
AP Recap
GoMarquette Recap - Notes
Paladium-Item Recap
NewsDay (NJ) Recap
Rosiak Recap - Rosiak Blog on Game
Chicago Sports Recap