Connecticut Huskies
Head Coach: Dan Hurley (186-134, 35-29 at Connecticut)
3-Year NCAA Ranking Average: 92.7
3-Year kenpom Average: 109.7
2020-21 T-Rank Projection: 34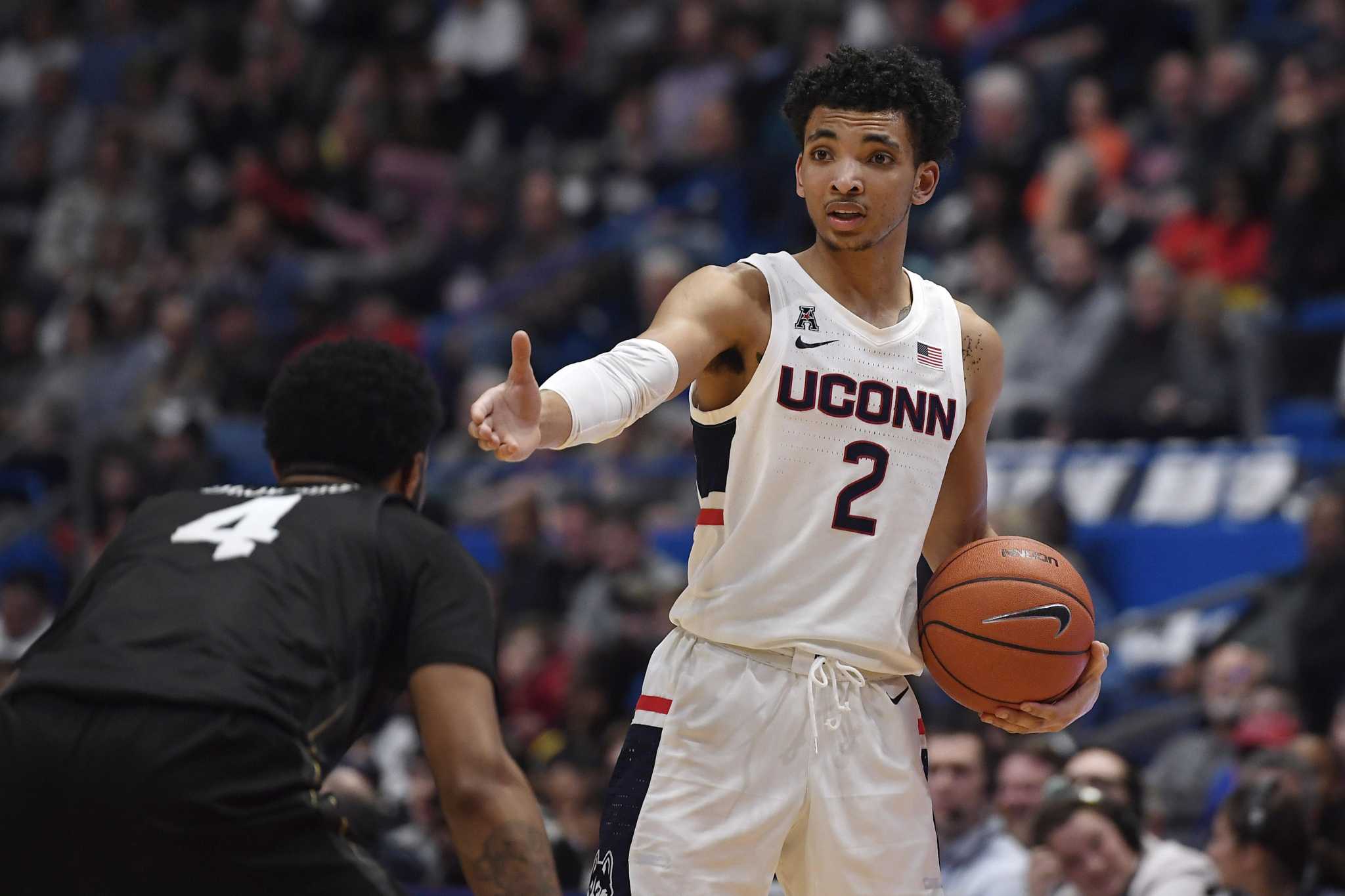 James Bouknight is about to announce his presence to the Big East
Photo by Jessica Hill | Associated Press

Projected Starters: PG Jalen Gaffney (6'3" So), SG James Bouknight (6'5" So), SF Brendan Adams (6'4" Jr), PF Tyler Polley (6'9" Sr), C Josh Carlton (6'11" Sr)
It was a tale of three seasons for the 2019-20 Huskies. Aside from a disappointing loss to St. Joe's, they had a respectable non-con with a win over Florida and close losses to Xavier and Indiana. Conference play started with a thud as Hurley's side sputtered to a 2-6 start in league play with a loss to Villanova mixed in as well. Then it was Bouknight time. The freshman guard went from flash to phenom as UConn went 8-2 down the stretch with wins over Cincinnati, Memphis, and Houston included.
The Huskies lost a great four-year player in Christian Vital, who scored 1,735 points but never played in a NCAA Tournament game, but return a solid core with Bouknight as the clear star. While he was solid all year, he turned it on down the stretch. During that 10-game run, Bouknight had a PORPAGATU! score of 5.4, which would be the second best of all returning Big East players behind preseason Big East Player of the Year Marcus Zegarowski. He is a legitimate BEPOY contender and dark horse All-American candidate. He is joined in the backcourt by Gaffney, who they hope proves a more steady player than the departed Alterique Gilbert. Adams was mostly a role-player, but both Polley and Carlton bring experience to the front court. Off the bench, two-time MEAC scoring champ RJ Cole averaged 21.4 ppg for Howard University and Hurley has a trio of exciting freshmen in wing Andre Jackson, physical big Adama Sanogo, and the incredibly long Javonte Brown-Ferguson. One of those young bigs could be needed early if Polley and Akok Akok aren't ready to go; bother suffered injuries last year and could continue to miss time.
Hurley likes to run an offense with multiple point guards that can start the attack, so expect to see a lot of mixing of the guards. Due to multiple competent ball-handlers, his teams don't turn the ball over often and the length and strength up front allows them to crash the offensive glass. More than anything, expect Bouknight to be the man. During that 10-game stretch he averaged 17.8 ppg/5.7 rpg with a 121.6 offensive rating while shooting 39.0% from three. He is drawing NBA attention and will be the engine that makes UConn's offense go. Expect them to drive often and work to get to the line. At the defensive end, Hurley's teams excel at swarming teams off the three-point line. In 9 of his 10 seasons as a head coach, his teams have been in the top-35 nationally at limiting three point attempts. They want teams to drive because they have a glut of shot-blockers inside. Similarly, in 9 of 10 seasons his teams have been top-100 in percentage of shots blocked. They chase you off the line, and when you drive, they swat your shots away. His teams also aggressively pursue turnovers, but the aggression that leads to shot blocks and turnovers has two negative effects: teams are able to punish them on the offensive glass and also get to the line frequently. These trends have been fairly consistent going back to his earliest days coaching at Wagner. The key to beating his teams is to be patient, keep looking for good shots, and taking advantage of their overaggressive tendencies.
It's hard to know what to expect from this UConn team. Bouknight looks like a legitimate star, but performing nightly against Big East teams is different than the American. The recruiting and talent level is improving, but this is still a team that needed a late surge to finish 5th in the American, so projecting them as a Big East contender seems like a stretch. Because I expect a lot of parity in the league this year, anything from 2nd to 6th feels realistic. If it all goes well, this team could be fighting for the 2-seed behind an All-American in Bouknight. If it doesn't, they could be in the middle of the pack unsure of which side of the bubble they'll end up on. The truth is probably something in the middle, with a return to the NCAAs a fair expectation, but a seed that will likely see them packing their bags for Storrs before the first weekend is over.
Marquette Memory: As we welcome UConn back to the Big East, can it be anything other than the night UConn welcomed Marquette to the Big East? Jim Calhoun brought his undefeated #2 ranked Huskies to the Bradley Center to take on Steve Novak and the freshmen Three Amigos (Jerel McNeal, Dominic James, Wesley Matthews). The first half was a back and forth affair as Novak and Rashard Anderson traded shots. Marquette took a 39-33 lead into the half, then it was unquestionably Novak time. In the second half alone, Novak went 2/2 from two, 3/7 beyond the arc, and a flawless 11/11 at the line. He poured in 24 second half points and finished with 41 points and 16 rebounds. The 94-79 final score actually flattered the Huskies, who needed an 8-1 run in the final 81 seconds to get it that close. Without a doubt, Marquette emphatically announced their arrival in the Big East on January 3, 2006 with a resounding win over one of the best teams in the country.