UW-Green Bay Phoenix
December 8th, Fiserv Forum
Coach: Will Ryan (0-0)
3-Year NCAA Ranking Average: 248.3
3-Year kenpom Average: 223.7
Projected T-Rank: 279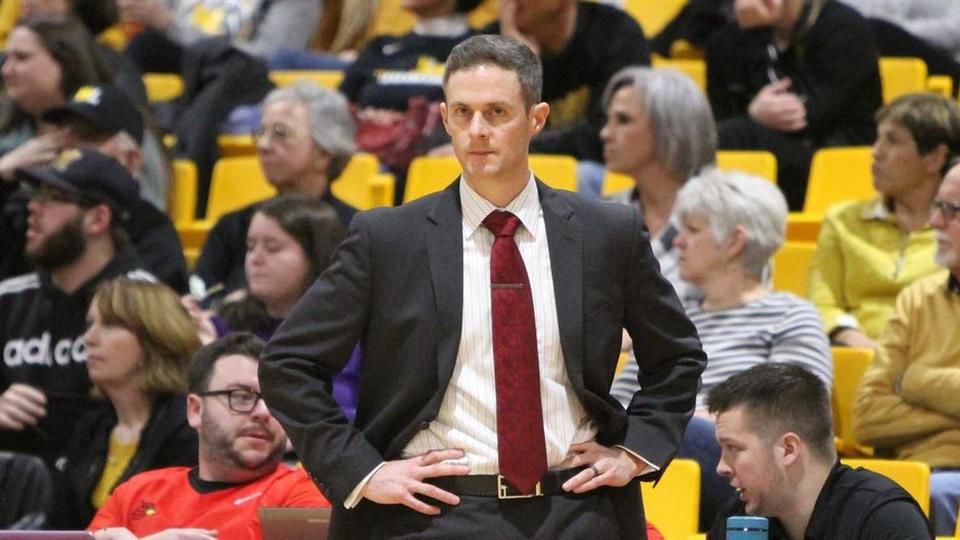 Will Ryan takes over as the new Phoenix head coach
Photo from Wheeling University

Projected Starters: PG PJ Pipes (6'2" Sr), SG Josh Jefferson (6'2" RS Sr), SF Amari Hardy (6'3" So), PF Paris Taylor (6'6" Jr), C Terrance Thompson (6'8" Fr)
It surprised most when Green Bay head coach Linc Darner was fired after his fourth winning season in five with the Phoenix. With his departure, expect the blistering fast pace (top-10 in offensive possession length all 5 seasons) to go away and the anemic defense (319th in efficiency) to improve. Darner's departure may be down to his weak starts as Green Bay entered the New Year .500 or worse each of the past three seasons and despite his Horizon success (51-39 conference record, 1 tournament title) there just wasn't much interested in the program.
Enter Will Ryan, son of long-time UW-Madison head coach Bo. The Phoenix have a solid backcourt trio. PJ Pipes was the most efficient Green Bay player last year while Hardy is the leading returning scorer at 15.9 ppg last year. Transfer Jefferson was a solid shooter in his time at Illinois State and should slot right into the starting lineup. Up front is where they have questions. Taylor is a JUCO transfer that was a solid rebounder but hasn't done anything at the D1 level yet. They have a trio of 6'8" freshmen with Thompson looking like the most physical option in the middle. This team has 9 freshmen so quite a few of their rotation members will be new to D1 and thrown into the deep end early.
The initial thought with a Ryan coaching at Green Bay is that the Phoenix will basically turn into UW-Madison East, but that may not be the case. The younger Ryan spent the majority of his time as an assistant on staff with Saul Phillips, who is no stranger to a faster pace of play than Ryan's father. That held true in Ryan's one season as a Division II head coach, where his Wheeling team played at a middle-of-the-road pace. While the pace won't be Darner's, the Phoenix will likely still make their living slashing to the rim, particularly Amari Davis, who took 98% of his shots inside the arc. Pipes and Jefferson can both score inside and out so they will provide balance to Davis' downhill attack. Don't expect much from the Phoenix interior game as it's a mix of freshmen and transfers that have no D1 experience. Defensively, the Phoenix will look familiar. They will be in strict man-to-man, rarely helping, rarely trying to force turnovers, and rarely gambling. Considering how young their interior players are, that is an area teams could look to exploit as the Phoenix adapt to this defensive change.
College basketball is a guard's game, and because of the strength of the Phoenix backcourt, they will likely steal a few games they aren't expected to win. I doubt that will happen much early in the season, however, as a team with a new coach, a completely different style, and an overabundance of inexperience will take some time to find its footing. In time, Ryan could prove himself an able head coach, as did the last scion of a UW-Madison Final Four coach to ply their trade at the Division I level, but it will take time to get there. For this season, at least, UW-Green Bay should provide easy pickings for a team with Marquette's talent level.
Marquette Connection: The last time Marquette played UW-Green Bay was a road game in 2011. Buzz Williams took his team on a trip up to the Resch Center on a snowy December night and was handed a 49-47 loss at the hands of Marquette alum Brian Wardle. The game prompted chaos amongst Marquette fans as many wondered if the team would even qualify for the NCAA Tournament. Marquette responded well to the loss, winning their next six games en route to a 26-9 record, a share of the Big East title, and an appearance in the Elite 8, proving that there's only so much you can read into any December result, even a bad loss to a 3-7 team.