Shaka Smart has won the commitment of his first Wisconsin player as David Joplin, a 6'7" forward from Brookfield Central, has committed to Marquette. Joplin joins prior 2021 commits Stevie Mitchell, Kam Jones, and Emarion Ellis and according to the 247 Sports Class Calculator moves Marquette up to the #20 recruiting class in the country.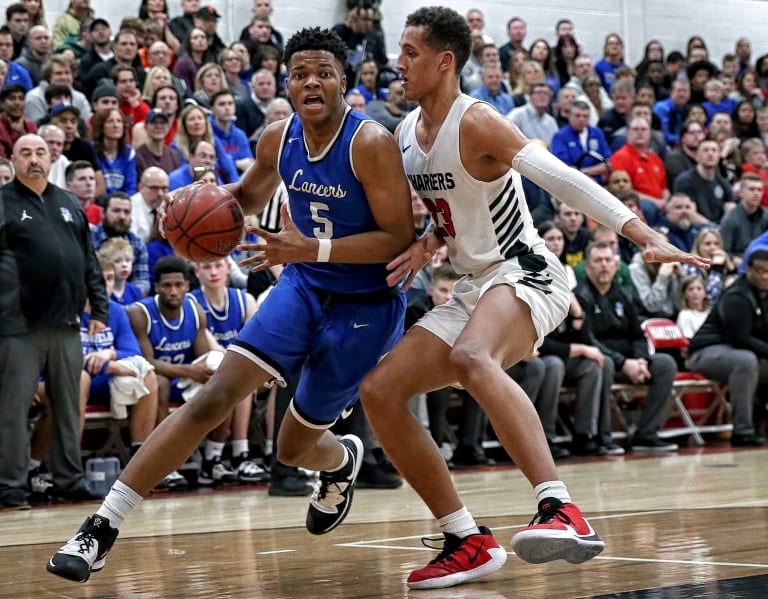 Joplin drives past a Sussex Hamilton player
Joplin is a four-star recruit and rated as the #114 player in the country by the 247 Sports Composite Ranking, though he checks in at #74 on the site's internal metrics. He put up a monster senior season, averaging 25.6 points, 10.6 rebounds, and 2.6 assists per game for the Lancers. Joplin had committed to Texas last summer, picking the Longhorns over Georgetown, Iowa State, and Minnesota, among others. Today he chose Marquette over a list that included Virginia, Minnesota, and Missouri, among others.
There has long been speculation that Joplin would've been receptive to a Marquette offer, but until the recent coaching change that offer never came. Joplin lives just 13 miles from Marquette's campus and he's grown up in the shadow of Milwaukee. The addition of Coach Smart, who similarly grew up in a suburb of Madison, made what was already a good fit, ideal.

Joplin always had the physical tools to play at the D1 level, but the biggest knock on his game was his shooting from distance. He broke through in that regard first as a sophomore, shooting 38.5% from deep, then backed that up as a senior as he connected on 37% of his shots from beyond the arc. Joplin is also regarded for his prodigious dunking ability and the way he uses his length and athleticism on the defensive end of the court.

The Brookfield forward has also shown the ability to come up big when the lights are brightest. He led Brookfield Central to the WIAA Division I State Championship game in 2019 as a sophomore. In that game, he exploded for 23 points, 13 rebounds, and 3 blocks with a cool 70 eFG% as he was also named to the 2019 Wissports All-Tournament Team.
So what is Marquette getting in Joplin? Listed at 6'7", 215 pounds, he should be able to play at this level immediately, though time in the weight room will only refine his physique. He has the ability to score at all three levels, attacking the rim, showing the ability to create his own shot in the mid-range, and as mentioned above shooting well from deep. His length and athleticism make him disruptive on the defensive end both in man-to-man and as a help defender. Joplin is a high-upside prospect that should contribute this year and develop into a starter, if not outright star, in the years to come. Here's a look at some of his senior year highlights, though we at Cracked Sidewalks always caution those watching to take mixtapes with a grain of salt, impressive though they may be.