Mississippi Rebels

November 18, Charleston, SC, 6:00 pm
Head Coach: Kermit Davis (454-280 overall, 51-42 at Ole Miss)
3-Year NET Average: 62.3
3-Year kenpom Average: 67.7
Projected 2021-22 T-Rank: 76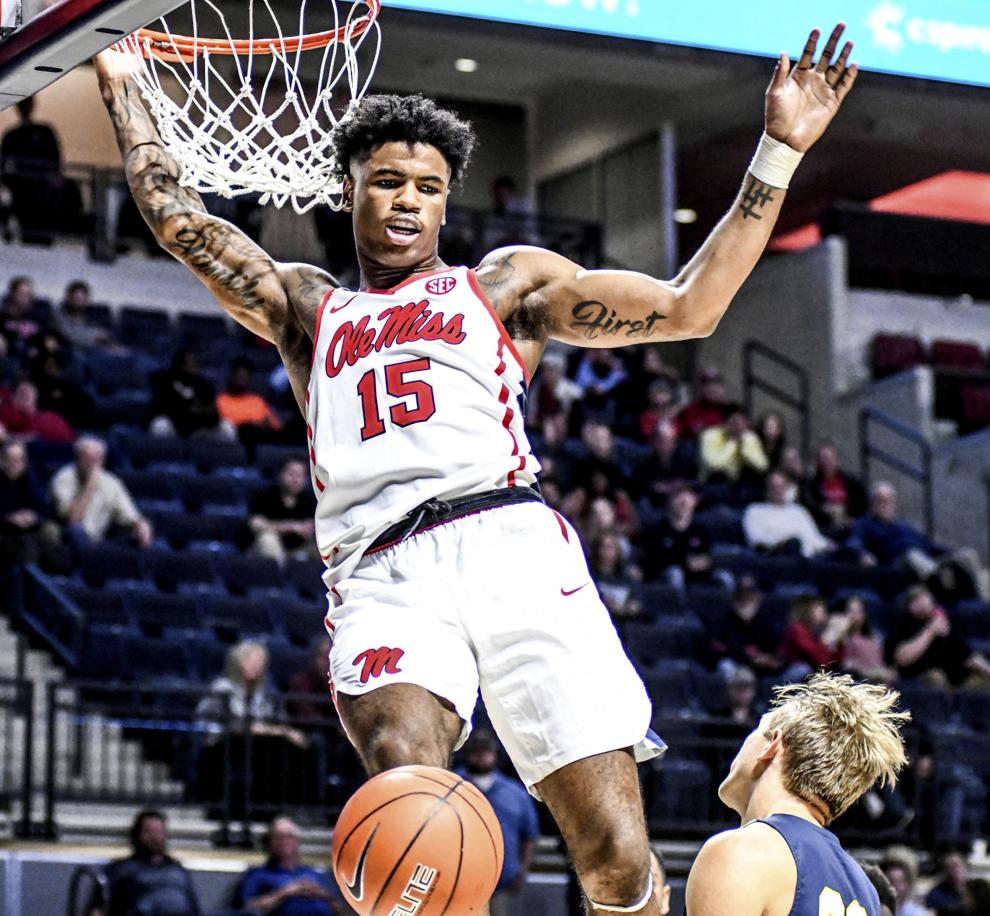 Luis Rodriguez looks to lead Ole Miss back to the NCAA Tournament
Photo by AP Sports

Projected Starters: PG Jarkel Joiner (6'1" Sr), SG Matthew Murrell (6'4" So), SF Tye Fagan (6'3" Sr), PF Luis Rodriguez (6'6" Jr), C Nysier Brooks (7'0" Sr)

Kermit Davis' third season at Ole Miss started poorly as the team was 8-8 and just 3-6 in SEC play at the end of January. From that point on, they got hot, going 8-3 with wins over Tennessee, then #10 Missouri (twice), and Kentucky before falling to LSU in the SEC Tournament. The Rebels had squarely played their way onto the bubble but came up just short as they earned a 1-seed in the NIT. They dropped their NIT opener to Louisiana Tech and saw their season come to an end.
Two of their top three scorers, Devontae Shuler and Romello White, are gone. Look for Jarkel Joiner to take up the leadership mantle. The Oxford, MS native transferred home last year and averaged 12.0 ppg, though he did so with some rather poor shooting numbers (44.4% 2PFGs, 26.1% 3PFGs, 42.9 eFG%). There was push and pull between him and Shuler last year, so expect this team to rise or fall with Joiner's play. Luis Rodriguez is the only player on the roster that was here when Ole Miss last went to the NCAA Tournament in 2019 and will need to pair with Joiner as he's the most efficient returning player and best rebounder. Matthew Murrell is the only other returning player to average more than 4 ppg and despite dreadful efficiency numbers had clearly carved out a role by last season's end. They are joined by Tye Fagan and Nysier Brooks, who transferred in from Georgia and Miami, respectively. Fagan is an undersized wing that excels at attacking the basket and scoring. Brooks is a fifth year player and massive space-eater that saw his efficiency, rebounding, and shot-blocking all dip down in his year at Miami after constant progress at Cincinnati. Another name to keep an eye on is Jaemyn Brakefield, a former top-50 recruit that committed to Duke but never settled in. He has unique size and talent on this roster and could be a difference maker if he can crack the lineup.
Davis does well adjusting to his personnel, but it seems like what he wants offensively has taken a step back. Early on at Ole Miss, his teams spread the floor and he had shooters like Breein Tyree, Terence Davis, and Devontae Shuler. They are all gone, as is last year's leading sniper KJ Buffen. Davis has said he wants to get back to the spread style of play but it remains to be seen if a team of mostly mediocre shooters in the past can become offensively efficient from the perimeter. Davis does well getting his teams to kick into another gear in transition, so on turnovers, expect them to attack quickly either at the rim or with a transition three. On defense is where they really shine, largely because of Davis' zone. He runs a 1-3-1 morphing zone that can shift into man defense. Generally the guards defend the perimeter, the forwards are long and athletic (Rodriguez and Brakefield fit the mold) to act as disrupters, and the big stays at home in the middle. They are aggressive, trying to trap and force bad passes. The preference is for opponents to try lob passes, which allows more time for their own defenders to recover. Players are expected to be constantly active with their hands up and taking up as much space as possible.
If it all comes together, this team could be fighting for a bid come March. If Joiner is the leader they need, if Brakefield breaks out as the star Duke hoped he would be, if Fagan and Brooks seamlessly slide into the rotation...those are a lot of ifs, especially in a deep and talented SEC. What might help them is they only see league favorites Alabama, Kentucky, and Tennessee one time each, so the schedule balance is in their favor. But it seems like Joiner is going to be the ball-dominant scoring leader, and his inefficiency makes that a concern as no one else on this roster has been a proven scorer at this level. Where will the points come from? Illinois will be a stout litmus test, but Ole Miss might be the more fair one, and one that Marquette has a better shot in. Both teams have a lot of newcomers so expect this one to come down to the team that adjusts to what their coach wants sooner.
Marquette Connection: The Rebels have only ever played Marquette once but it's a meeting they would probably sooner forget. It was also a neutral site tournament in the 2011 Paradise Jam. The Golden Eagles, led by Jae Crowder's 25 points and 7 rebounds, blitzed Mississippi early, opening a 40-12 lead 15 minutes in on their way to a 96-66 demolition of the Rebels. Darius Johnson-Odom added 20 points. Marquette finished off their successful trip with a closer than expected 59-57 win over Norfolk State in the title game as they claimed the Paradise Jam crown.