St. Bonaventure Bonnies
November 21, Charleston, SC
Head Coach: Mark Schmidt (324-275 overall, 242-185 at St. Bonaventure)
Three-Year NET Average: 90.3
Three-Year Kenpom Average: 92.0
Projected 2021-22 T-Rank: 16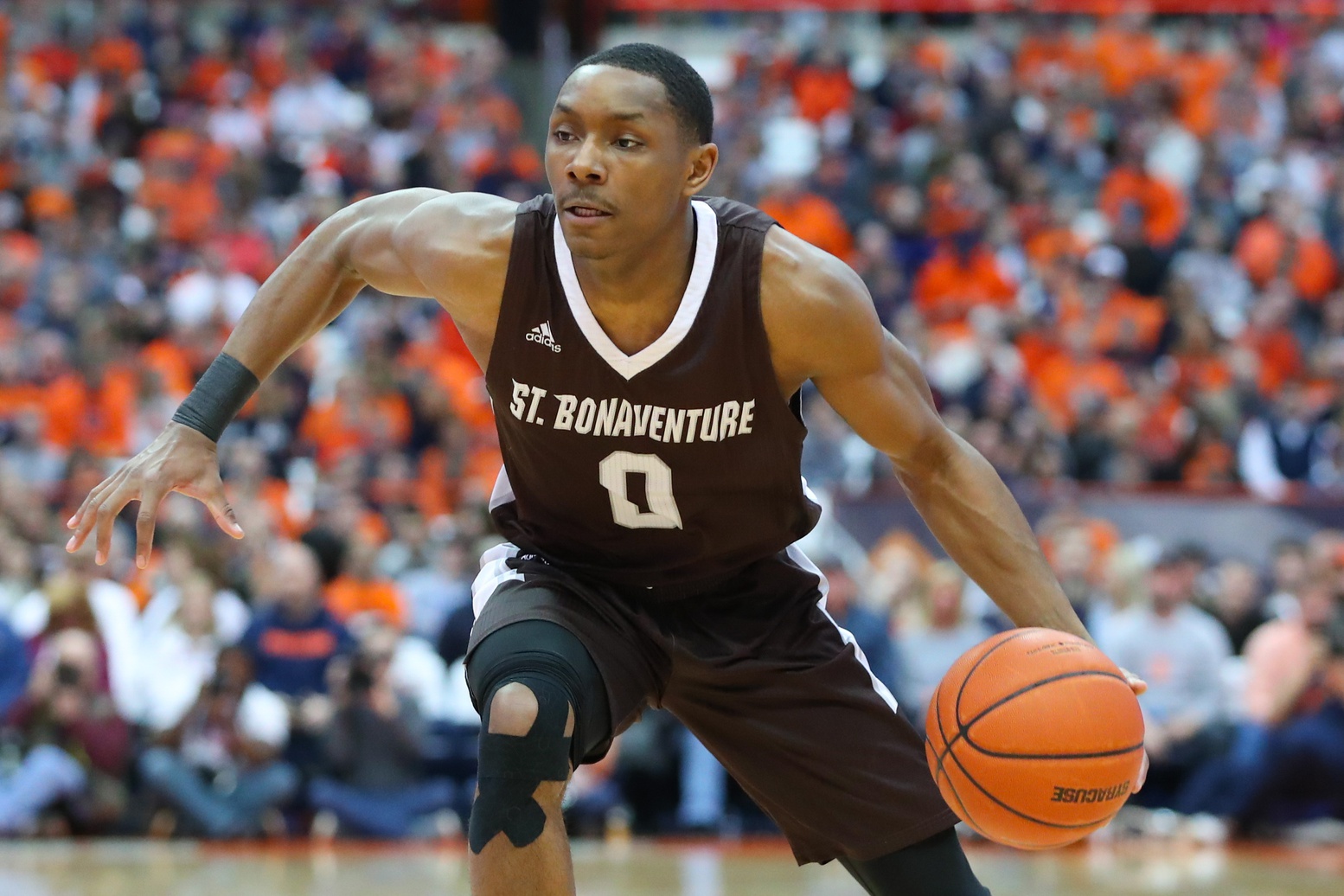 Kyle Lofton led the nation in minutes per game in 2020-21
Photo by Rich Barnes | USA Today
Projected Starters: PG Kyle Lofton (6'3" Sr), SG Jaren Holmes (6'4" Sr), SF Dominick Welch (6'5" Sr), PF Jalen Adaway (6'5" Sr), C Osun Osunniyi (6'10" Sr)
On paper, this is the best team Mark Schmidt has ever had. He brings back all five senior starters from a team that went 16-5, won the Atlantic-10, and earned a 9-seed in the NCAA Tournament. The Bonnies are ranked in the AP Poll for the first time in over 50 years. All five players averaged double-digit points last year. The leader is Lofton, who scored 14.4 ppg in an insane 38.4 mpg. He played 39 or 40 minutes in 16 of the Bonnies 21 games last year, so expect him to pretty much never come out. If they have a weakness, it's depth. Only two bench players tallied more than 100 minutes last season and both transferred. They'll hope for a boost from Pitt transfer Abdoul Karim Coulibaly, who averaged 5.2 ppg/3.9 rpg last year. Beyond that, Schmidt has no proven options.
With so little depth, it's no surprise the Bonnies slow it down on both ends. They don't turn the ball over on offense and the combination of Adaway and Osunniyi are excellent at creating second chances on the offensive glass. Defensively, they excel chasing teams off the line and forcing them to go inside, where they like to bring double-teams and Osunniyi is a human eraser. The Bonnies should be a tournament team again this year, but the danger is injuries. With so little depth, they can't afford to lose any of their starters. Teams playing the Bonnies would be advised to try to speed the pace and be aggressive seeking fouls to wear them out and get into the bench. When a starter fouled out, the Bonnies were 0-3. The Bonnies look solid, but they only played two non-conference games last year and most of their results came against an A-10 with just one other top-50 team (#48 VCU) and were drubbed in the NCAA Tournament by LSU when they played their first high-major opponent. They should still be good and in the mix in the A-10, but might not be the runaway favorite they are made out to be, particularly in a longer season that will test their depth more often.

-----
---------
-----

Boise State Broncos
November 21, Charleston, SC
Head Coach: Leon Rice (237-137)
Three-Year NET Average: 97.3
Three-Year Kenpom Average: 94.3
Projected 2021-22 T-Rank: 71
Projected Starters: PG Marcus Shaver, Jr (6'2" Sr), SG Devonaire Doutrive (6'5" Sr), SF Emmanuel Akot (6'8" Sr), PF Abu Kigab (6'7" Sr), C Mladen Armus (6'10" Sr)
Former five-star recruit Emmanuel Akot is hoping for a senior star turn
Photo courtesy of Boise State Athletics

At 14-4 and having just swept Utah State, the Broncos looked NCAA-bound. They proceeded to lose their last four games, including their Mountain West Tournament opener, and dropped to the NIT where they lost in the second round to eventual champs Memphis. They return three starters in Shaver, Kigab, and Armus, while both Akot and Doutrive were spot starters and played significant minutes last year. They did, however, lose their leading scorer in Derrick Alston and leading assister in RayJ Dennis. Max Rice, the coach's son, is the only experienced bench player. Like the Bonnies, depth will be a problem.
On offense, Rice's teams run motion in a style that emulates his mentor, Mark Few. They want to space opponents out then create open looks off of screens and dribble hand-offs. More often than not, the three-ball is a heavy part of the arsenal. On defense, they slow teams down, chase them off the line, and control the glass. Everyone on the floor from 1-5 is expected to rebound. From a results perspective, Rice's first few years were a dream for Bronco faithful, with two NCAA bids in his first five seasons. Unfortunately, both were First Four losses and since then it's been three NIT appearances in six years. The Broncos are typically good enough to challenge for a postseason berth but late-season swoons before Selection Sunday (0-4 to finish 2021, 4-4 to finish 2020, 2-7 to finish 2019, 3-4 to finish 2018, 3-4 to finish 2017, 5-6 to finish 2016) have doomed their NCAA aspirations since that last 2015 appearance. This team looks like it will be more of the same. Competitive, but somewhere around the bottom of the top-half of the Mountain West and more likely sniffing an NIT bid than one in the NCAAs.